It appears another 'celebrity' beef is in the pipeline. According to Popular Ghanaian and Nigerian actress, Ella Mensah, A Plus' wife, Akosua Vee dated married men including one named Kwaku from Takoradi and also dated a musician, Wutah Kobby before she got 'lucky' and A Plus married her.
Ella Mensah has furiously thrown shots at the musician turned politician, A Plus' wife, Akosua Vee describing her as a fool, a hypocrite, and an immoral person who used to date married men until she married A Plus.
SEE ALSO: The before and after bleached photo of A-Plus' wife, Akosua Vee pops up on Social media
She revealed that A Plus is even cheating on her so she should concentrate on her marriage and not try to use her to gain attention.
So how did it all start?
Ella Mensah granted an interview to Joy News and ridiculously revealed that she is in love with a married man. She, however, did not mention the name of the married man (Do you blame her…lol).
SEE ALSO: A Plus vents anger in Reaction over before-and-after PHOTOS of his 'bleached' wife (Video)
Immediately after the video was shared by Joy News, Akosua Vee hurriedly uploaded the video on her Timeline on Facebook and threw shades at the actress. Akosua Vee captioned the video:
Gone are the days when people are even shy to say they are dating married men!!! What do we see now?? Lord have mercy but remember when you have deeply fallen in love with this single guy and you are all over him, that is when KARMA WILL KNOCK AT YOUR BEAUTIFUL GOLDEN DOOR! Keep wrecking ppls homes. May God has alwas been a merciful God and in His own time he strikes beautifully
SEE ALSO: I don't date a man for more than 2 years – Actress Ella Mensah
Well, Ella Mensah saw the post and she didn't take it lightly. She jumped on Instagram and decided to 'reveal dirty secrets' she claims to know about the wife of the NPP politician. And among other things, she said Akosua Vee is a hypocrite, a fool seeking attention and was in the same business as her. She only retired after A Plus married her.
Some of the names she mentioned are; one Kwaku who is married and stays in Takoradi as well as the other half of Wutah, Kobby (Am not sure if Wutah Kobby is married but we will try to find out for you).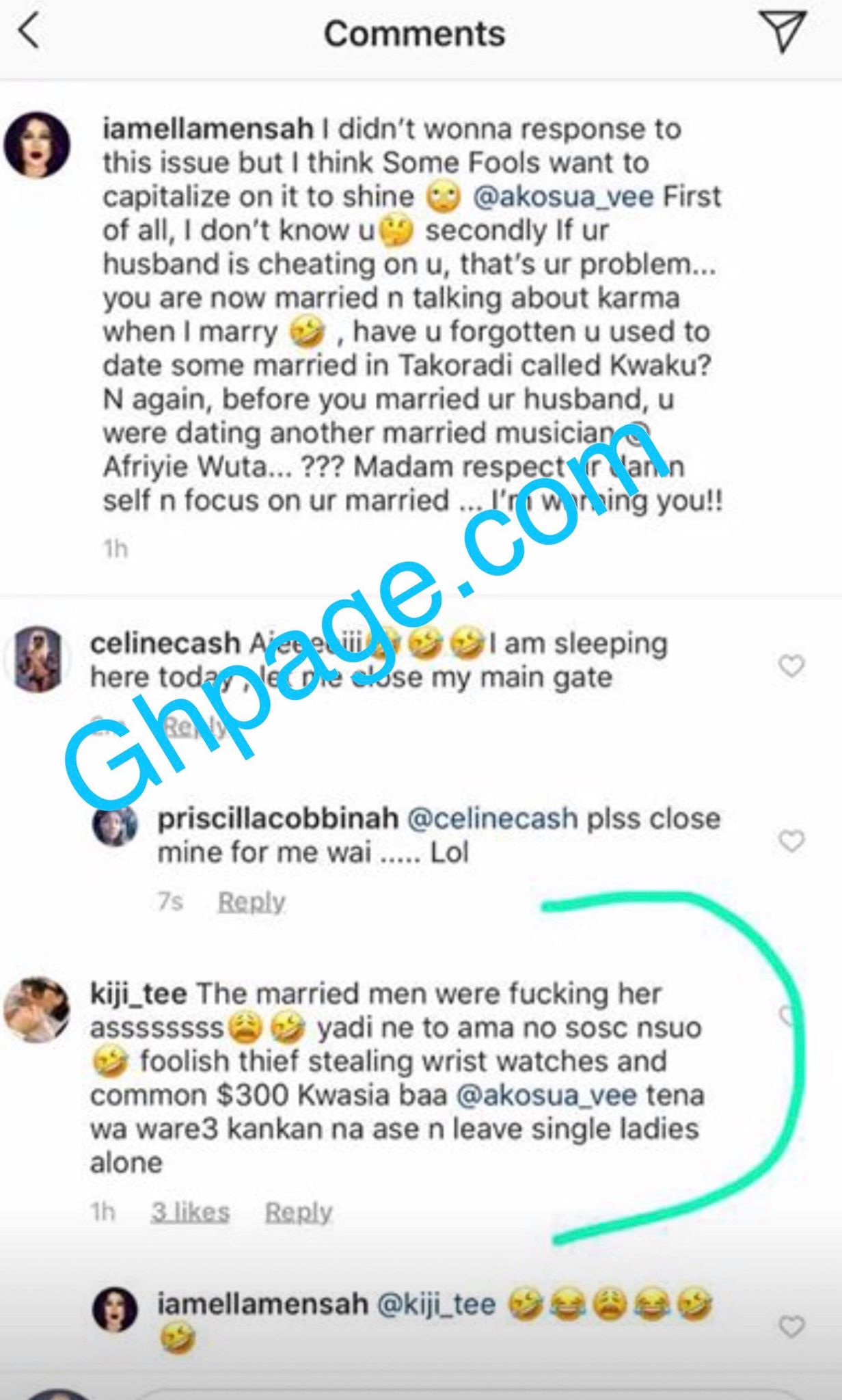 Well, Ghpage.com is keenly following the unfolding drama and will update you more shortly, By the way, after the shades, they have all deleted their posts…But Ghpage.com is always faster than the GODS. STAY WITH US FOR MORE
SEE ALSO: Top 10 Ghanaian Celebrities With Bleached Skins (PHOTOS)