A Kumawood actress has made a damning allegation against another actress for taking her to a juju man to take away her shine.
Xandy Kamal, the daughter of the late Volta Regional Minister of Ghana in a conversation with Kofi Adoma of Kofi TV touched on juju use in the Kumawood industry.
It all started when the host asked the controversial actress if there is juju use in the Kumawood movie industry. She responded in the affirmative and went on to talk about her own experience.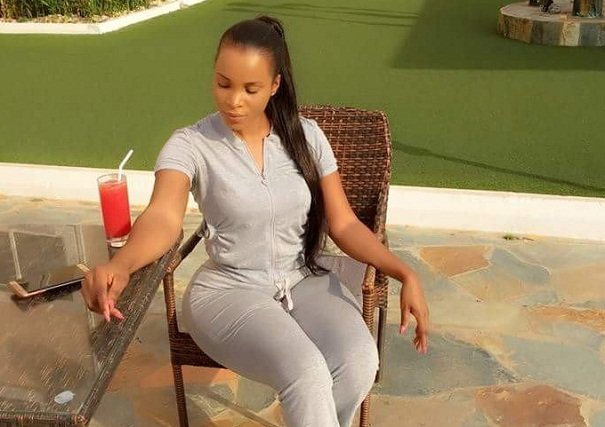 SEE ALSO: Video: Benedicta Gafah Responds To Diamond Appiah Over Claims She Can't Conceive
According to her, when she moved to Kumasi to join the Kumawood Movie industry, an established actress befriended her and even asked her to move in with her.
But along the line, the actress told her she will take her to a pastor who will bless and shower favors on her that will her help grow in the Kumawood industry. But unknowingly, the said actress took her to a juju man who attempted to swap her favor for the established actress.
Describing the actress who tried to snatch her favor with the help of a juju man, Xandy Kamal said the Kumawood actress has recently been signed by the biggest Record label in Ghana.
SEE ALSO: Angry Benedicta Gafah replies her critics in an equal measure
She married but the marriage didn't last a month and currently, the actress dates a guy who is based abroad. Although she didn't mention the name, it's obvious she is talking Kumawood star, Benedicta Gafah.
LET US ANALYSE HER DESCRIPTION
1. Benedicta Gafah is the only Kumawood actress who has been signed by the biggest record label in Ghana now, Zylofon Media. And she was signed quite recently.
2. Back in 2017, social was rife with rumors that Benedicta Gafah married a USA based doctor in a secret wedding but the wedding never survived past 2 weeks. As to what caused the divorce was never made public and the marriage itself was never confirmed or denied by Benedicta Gafah.
SEE ALSO: My Dream Is To Kiss And Roll My Tongue On Akrobeto's Nose – Kumawood Actress
3. Currently, Benedicta Gafah dates a Ghanaian born Norway based footballer turned model called Jeffter Ohene Kwaah. Jeffter besides being model for Surface Model Mangement which is based in New York also owns a number of prestigious barbering shops in Norway.
4. This is not the first time Gafah has been accused of taking another person to a juju man to destroy the person. Failed Ghanaian parliamentary aspirant, Diamond Appiah has on countless occasions accused Benedicta Gafah of taking her picture to a juju man to destroy her. The two used to be close friends. She has stated emphatically that Xandy is talking about Gafah
SEE HERE: Meet Jeffter, Actress Benedicta Gafah's Boyfriend [Profile + Photos]
5. This is not the first time Benedicta has attempted to take the shine of another actress. Back in 2017, Benedicta in an interview without mincing words stated that not only is she more beautiful than Nana Ama Mcbrown, Emelia Brobbey, and Vivian Jill, she is also far better an actress than any of them.
With the above points in mind, watch the video yourself and draw your own conclusions.
WATCH VIDEO BELOW
SEE ALSO: Meet Jeffter, Actress Benedicta Gafah's Boyfriend [Profile + Photos]