As expected, Afia Schwarzenegger has added her voice to the trending news that a popular female Ghanaian celebrity is the pimp for most Slay Queens in Ghana.
The first person to drop the expose was Kennedy Agyapong, the Member of Parliament for Assin Central
SEE ALSO: Nana Aba Anamoah accused of being the biggest Slay Queen Pimp in Ghana – Lady tells her story on social media (Screenshots)
Although Kennedy Agyapong did not mention any name in his revelation, the news went viral alleging that veteran media personality, Nana Aba Anamoah is the Pimp the MP was talking about.
Some lady also came out to alleged that Nana Aba Anamoah tried to pimp her to rich men when she enrolled in her media school.
Well, Afia Schwarzenegger has also alleged Nana Aba Anamoah is the Pimp Ken Agyapong was talking about.
SEE ALSO: Former husband of Chantelle Kujewu pops up – Reveals how she stole his money and fled the marriage to be a Slay Queen (Photos)
Reacting to the trending news, Afia Schwar wrote on Instagram:
"As the Spiritual Gossip Leader of the nation, I can say for a fact that This is so True. He was talking about our English Girls Prefect…mmm you know her paaa Good day n keep the discussion in your office as for me I am Not well."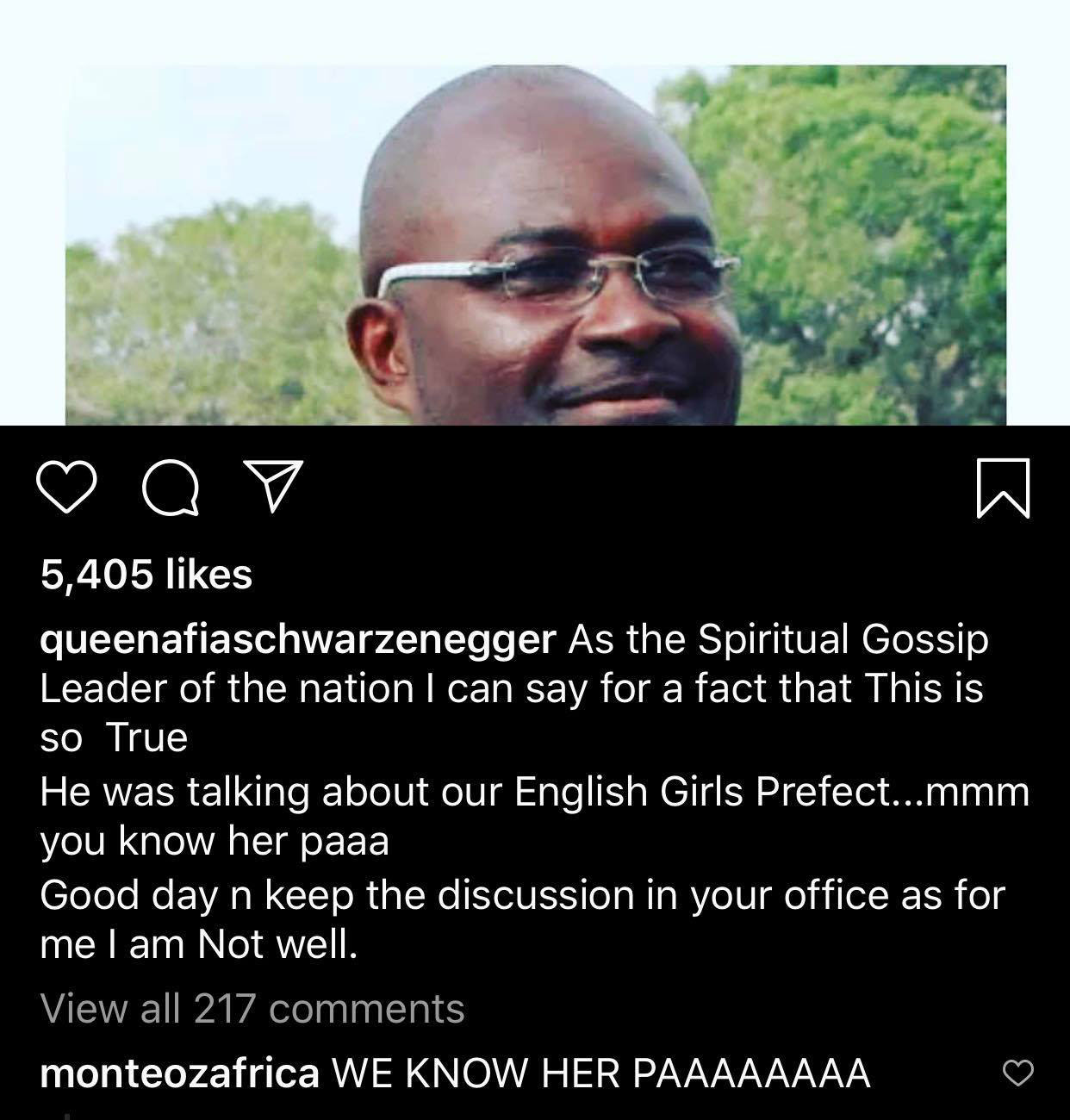 SEE ALSO: Busted: Man who connived with the Slay Queen side chick to record and leak Kan Dapaah's video exposed (Photos)
Well, English Girls Prefect is a nickname Abeiku Santan gave Nana Aba Anamoah during their beef last month. Ghpage.com will keep you updated