A few days ago a lady identified as Naana Brown alleged that Afia Schwarzenegger's twin sons were fathered by a Fulani man in Ashiaman as opposed to Afia Schwarzenegger's claim that they were born out of her marriage to a German.
She also added that Afia Schwarzenegger doesn't know the whereabouts of the said Fulani man from Ashaiman
Reacting to this claim that has since become viral, Afia Schwarzenegger's took to her Instagram account to debunk these claims insisting that her boys' father is German.
In the post on Instagram Afia shared a photo of herself and the boys and captioned it;
"Abrofo Maame
Fine boys Maame
German boys Maame.
Zara Boys Maame
Luv you Jaime-Ian Heerdegen Geiling and John Irvin Heerdegen Geiling. (Tell the haters to call their relatives to teach them how to pronounce the German Names)
Observers are mourning…
I heard some Kumasi girl bi talking about my Germans and am like be4 you talk abt my well fed,well kept,well educated, well loved ,planned babies…pls post your children or relatives children and lets compare.
Be4 you talk abt them,go back to school n learn how to pronounce their name.
Jealousy accompanied with foolishness"
SEE POST BELOW: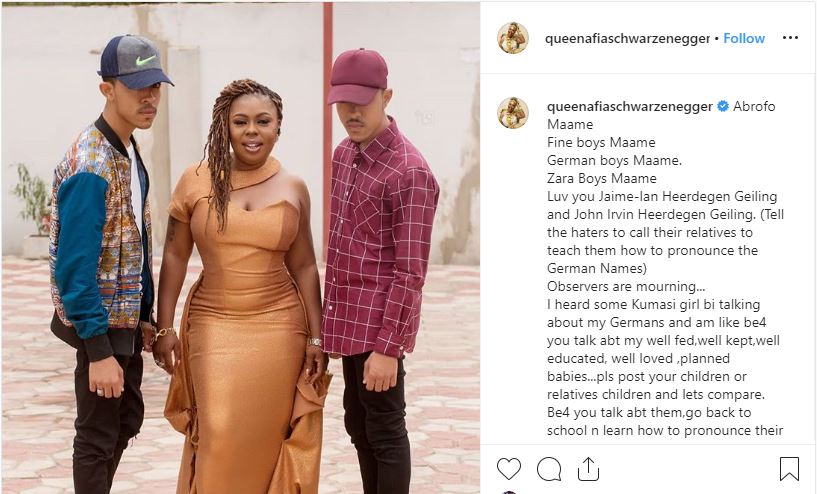 How true are these allegations against Afia Schwarzenegger?