After weeks of personal attacks on the ace Investigative journalist, Anas Aremeyaw Anas by Hon Kennedy Ohene Agyapong, Anas has sued Kennedy Agyapong for defamation.
Since it became public that Kennedy Agyapong has undertaken some investigations into Ghana Football and the president of Ghana Football Association, Mr. Kwesi Nyatakyi was captured in various scenes taking bribes and among other things scheming to bribe the president of Ghana, Nana Akufo-Addo, Ken Agyapong started attacking Anas.
SEE ALSO: Here Are All The NPP Big Men Captured In The Anas GFA Exposé
According to the Member of Parliament for Assin North, Anas' methods of investigation is wrong and he is equally corrupt. He explained that Anas blackmail people he investigates.
Among other things, he called Anas a thief, corrupt, blackmailer and called for mobs to attack him whenever they meet him. He even showed a picture he claims is Anas. He vowed to show a video of Anas confessing to taking a bribe of GHS100,000.
Well, Anas has premiered his video nicknamed Number 12/. And several GFA executives have been caught in compromising positions taking bribes to influence decisions. Already, the Government of Ghana has announced they are taking steps to dissolve GFA.
Well, after the premier, Anas is now facing Kennedy Agyapong boot for boot. He has sued Kennedy Agyapong for defamation and he is demanding for GHS25 Million in damages.
SEE ALSO: Shut Up And Prove Your Allegations With Evidence – Majority Leader Jabs Kennedy Agyapong
READ THE WRIT BELOW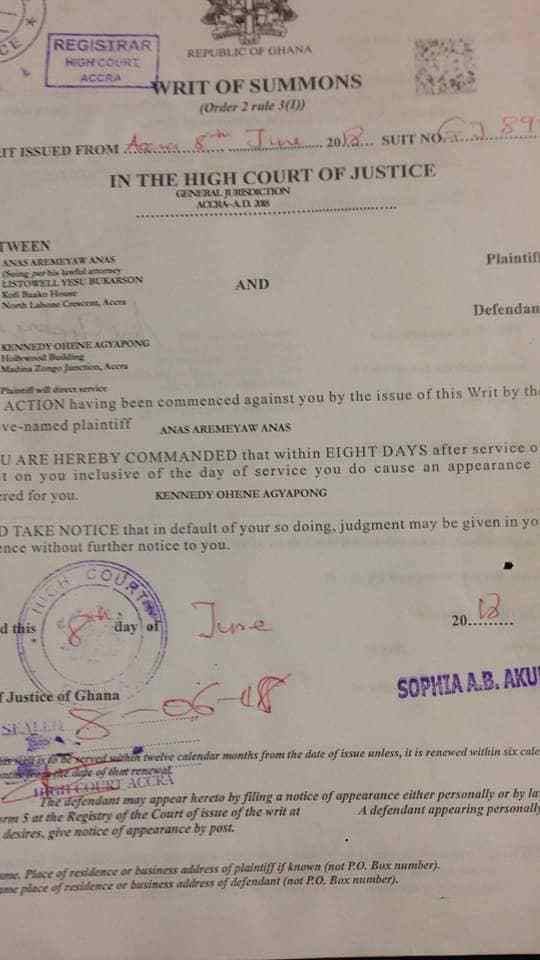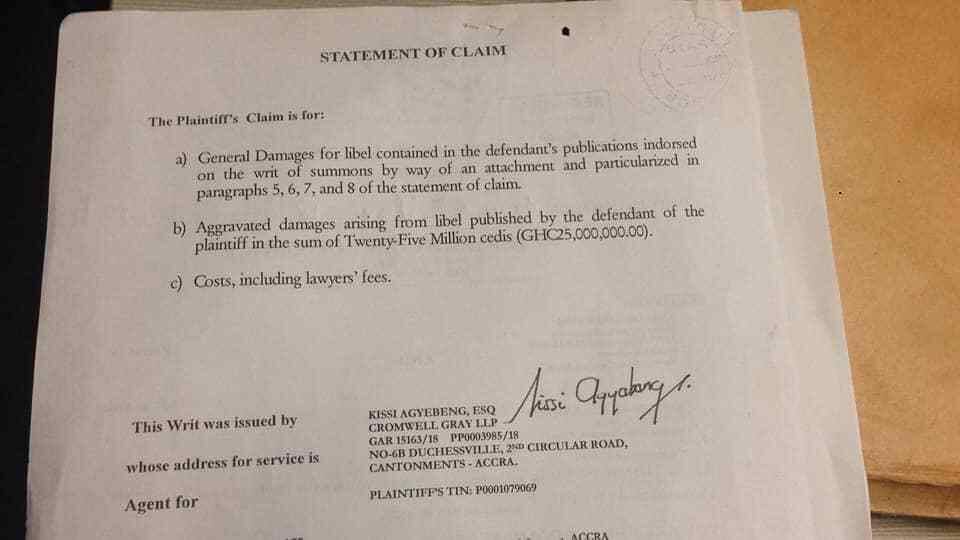 SEE ALSO: I was Offered $300K Bribe To Lose Against Czech Republic – Richard Kingston