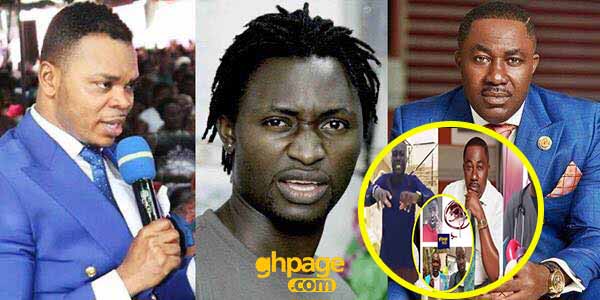 Samuel Owusu Asare aka T-P Klan has hit hard at Despite Group workers especially Kwame Nkrumah Tik3se3 of Okay FM and Adom FM presenter, Captain Smart for calling Evangelist Addai a madman.
According to T-P Klan, Despite Group workers and Captain Smart has no moral right to condemn someone who has said false news about their boss because they have for years called Angel Obinim false names on their respective radio stations without any proof.
SEE ALSO: Captain Smart descends on Evang. Addai over his blood donation comments
The OB TV presenter stated that how they [Despite Group workers] feel right now that someone is calling their boss bad names is how they also feel whenever they call Angel Obinim a fake prophet.
For some weeks now, workers of Despite Group has been up in arms against a USA based Ghanaian, Emmanuel Addai who calls himself an Evangelist.
SEE HERE: Kwame Despite uses blood donations for his ritual sacrifice -Evang. Addai
It all started when after Despite Groups Health Fair where patrons donated blood and also took several medical tests, Evangelist Addai Emmanuel came out with a video alleging that Dr. Osei Kwame Despite is an occult and he uses the blood collected for his ritual sacrifice.
When Abeiku Santana, a worker with Despite Group came out to reveal that Evangelist Addai is a madman and he went mad during his days at the KNUST, Addai Emmanuel came out to also reveal that Abeiku Santana killed his daughter and bodyguard for ritual sacrifice. An accusation Abeiku has denied.
SEE HERE: Video:Abeiku Santana replies Evangelist Addai over his claims of involvement in 'occultism and satanism'
Since then, all the critics of Addai Emmanuel calls him a madman. Even people outside the Despite Group has called him a madman including Adom FM's Captain Smart. Despite Group has however threatened legal actions against Evangelist Addai Emmanuel for defamation
Watch the video of T-P Klan reacting to the attacks on Evangelist Addai below
https://www.youtube.com/watch?v=vUK4hCmEZG8&feature=youtu.be
SEE ALSO: Afia Schwarzenegger lambasts Evangelist Addai for his false claims on Dr Osei Kwame Despite