Ghanaian actress and entrepreneur Salma Mumin have apologized to her fans and Ghanaians over a nude picture she posted on Instagram to celebrate her birthday.
The picture that went viral received massive backlash from her fans and friends who felt she was craving for attention.
ALSO READ: Salma Mumin goes nude to celebrate birthday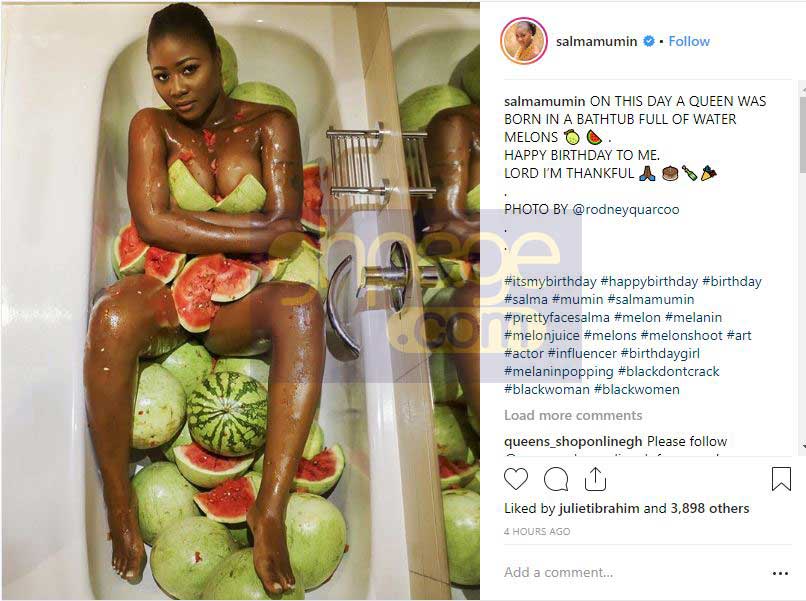 However, Salma has taken the picture off Instagram and disclosed that the picture she shared was photo-shopped.
"Friday was like a movie a movie! AND I APOLOGIZE FOR MY WATERMELON PHOTO. It was supposed to be a harmless photo as I was fully clothed in the TUB lot of Photoshop was done on editing bench. Wasn't my intention to DISAPPOINT my loved ones out there. 
I sincerely ask for y'all forgiveness. Many thanks to all who showed me love. Those I replied and those I wasn't able to reply. It was such a busy day I couldn't reply everyone but still on it. Really appreciate y'all", she stated.
ALSO READ: Wendy Shay apologizes to Ghanaians and Multimedia over her 'Dumb Question' statement