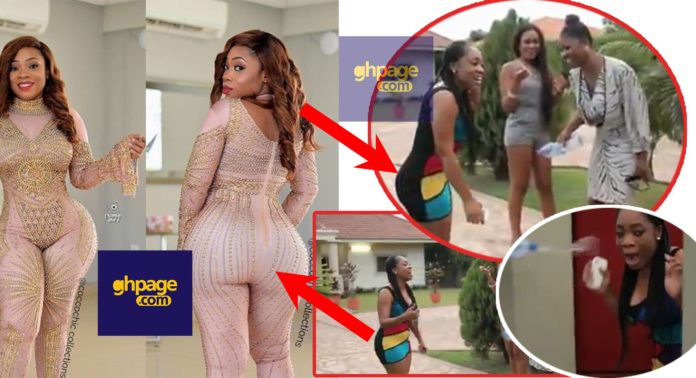 Moesha Boduong, the embattled Ghanaian actress cum Instagram model who was recently taken to the cleaners when she stated on CNN that the only way for a Ghanaian woman to survive is to date a man even if it's a married man no problem has rubbished claims by critics that her butt is artificial.
Just some few days ago, Moesha's own friend Abena Moet exposed and confirm rumours that she has undergone surgery to lift her b00bs and a$s. Now a photo of when she was undergoing the lipo surgery has popped up on social media and spreading like wildfire.
READ ALSO: 5 Diabolic Things 'Sakawa Boys' Do To Get Money – A Must Read For Everyone Especially Ladies
When Ghanaians were outrage with her BBC interview, veteran Ghanaian actress, Grace Omaboe popularly known as Maam Dokono revealed that even the butt Moesha is using to snatch people's fathers is actually fake. Maame Dokono in an interview said:
"Moesha's butt is even artificial because I have heard that she had to go through surgeries to have it like that and instead of doing something meaningful for yourself, you rather using your butt to sleep with men for money. It's a bad practice".
READ ALSO: This Throwback Photo Of Moesha Causes Social Media Users To Wonder How She Has Transformed So Much
But the actress replying to an Instagram post that she had been exposed by her old videos and pictures, she replied the journalist saying that "You know me for a very long time, I was a girl on Viasat 1 that wanted to be Beyonce, so pathetic, my ass is not fake "
According to her the videos and pictures that people are using as their justification do not make sense because she was so skinny and small than size 6, so people cannot base their argument on her old pictures as their justification.
Watch the video below to justify for yourself
READ MORE: Is Nana Ama Mcbrown Forcing Her Young Husband To Love Her? This Video & Photos Prove So [Details]
https://youtu.be/WyO06vvMHWU