Adams Zakaria, assemblyman for the Bantama 'ahenbronom' electoral area has narrated how the gang-rape incident which has gone viral this week happened.
In an interview on Accra fm, he stated that where the incident happened to his house is just a 30-meter distance.
And on that Friday, he saw two ladies coming out from the house of where the incident took place and one of them came to plead with him that, she wants her sister to sit beside him whiles she attends to something and will be back soon.
According to the assemblyman, the lady who was made to sit with him then started narrating what they have gone to see in that house.
And according to the lady, they went to visit an old man and through the conversation, they heard a noise from the next room—But then, there was a loud sound system emanating from that room which will, of course, limit any other noise to come out.
Later on, they heard a cry of a lady coming out from that room and that of another guy giving out an instruction that, 'put it at just the tip of it and she will be quiet.'
According to the assemblyman, the lady told him that, the man they went to visit then barge into the room and caught them in the act.
The man, according to the narration, slapped one of them and the others took to their heels half naked which the assemblyman said, he visibly saw them running.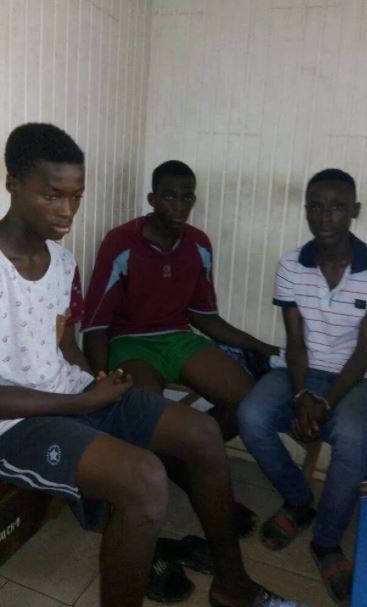 The lady later came out of the house whispering and also took her way.
The assemblyman revealing how the three were caught and he said, unit committee member called 'trouble' went in search of the boys and handed them over to the police.
Listen to the audio below;
Subscribe to watch new videos
The culprits who were seen in the video have been arraigned before court. The incident which has gained national attention has received varying views and comments from many people including state officials, celebrities, and the general public.
The Minister for Gender, Children and Social Protection, Hon. Otiko Afisa Djaba has called on the security agencies to check that the circulation of the video is stopped.
READ ALSO: Court remands the 3 Bantama gang-rape suspects
Many people have also shared their views on the type of punishment they deem fit for the culprits in the gang-rape saga.
Some have called for public flogging, others are pushing for a jail term. However, some people believe that jail was going to rather harden the young culprits.
Two of culprits in the video were in SHS and 1 was a JHS student.