For days now, Prophet Nigel Gaisie the founder and General Overseer of True Fire Prophetic Ministry has been in the

news for wrong reasons

.
According to one woman known as Ama Born Again, before she became born again, she personally led Nigel Gaisie to a powerful Juju in Gambia to acquire his prophetic powers.
According to Ama Born Again, Prophet Nigel Gaisie called on her and begged her to take her to a powerful oracle that can help him solidify himself as one of the greatest prophets in Ghana.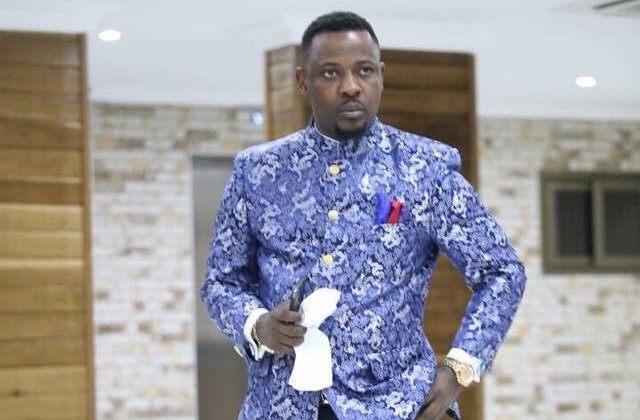 SEE HERE: Here's Ama Born Again -Prophet Nigel's confidant who helped him obtained Juju Powers from the Gambia [WATCH VIDEO]
By then, she was deep into the occultic world so she took him to a powerful juju man in Gambia who granted him his wishes.
Prophet Nigel Gaisie has made some of the earth-shaking revelations in recent times in Ghana. Popular among them was when he prophesied that Ebony will die through road accident months before it happened.
SEE ALSO: Actress Diamond Appiah Calls Out Pastors Seeking The Downfall Of Prophet Nigel Gaisie
Ama Born Again made all these revelations about Prophet Nigel Gaisie on Vision FM, and She was hosted by Nana Yaw Sarfo, one of the vibrant presenters in Accra.
Well, Prophet Nigel Gaisie has reacted to these damning allegations leveled against him. Not only has he rained curses on Ama Born Again and denied the allegation, He has equally sent a strong warning to the host of the show Ama Born Again made her revelations, Nana Yaw Sarfo to be careful or else the wrath of God will descend on him.
SEE ALSO: Prophet Nigel reacts to being called a "small boy" by Rev Owusu Bempah -Vows to expose him
Nigel Gaise further stated that many times in the Bible, attempts were made to pull prophets down but they never succeeded and will not succeed with him too.
Listen to the audio below
https://www.youtube.com/watch?v=OcE06p3q66s
SEE ALSO: Man Of God Prophesies The Exact Date, Time, Venue, And How Prophet Nigel Gaisie Will Die – It's Soon