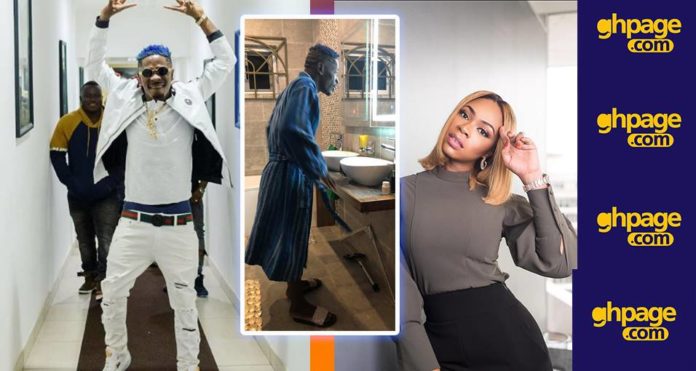 Ghpage.com

reported about social media posts by Shatta Wale and Shatta Michy that suggested the two lovebirds are having serious relationship problems.
Shatta Wale accused Shatta Michy of slapping him and pulling a knife on him right in front of her own mother.
SEE ALSO: You lived in a ghetto when I met you; now you are being ungrateful – Shatta Michy 'punches' Shatta Wale
Shatta Michhy in series of posts revealed not only does Shatta Wale beats her whenever he wants, he has pulled a gun on her 3 times.
Considering the obvious tight bond between Shatta Wale and Shatta Michy, their fans have been wondering what could have gone wrong. Others have also suggested it could all be for hype.
SEE ALSO: Photo: Shatta Michy releases a 'Swollen-faced' photo to prove that indeed Shatta Wale has been beating her
Well speaking to Andy Dosty on Accra-based Hitz FM, Shatta Wale revealed that their problems are very complicated and he will open up about what is really going on at the right time.
Already there are rumors that Shatta Wale is already going out with a fast-rising Ghanaian songstress, Bigail.
SEE ALSO: Photos: After Breaking Up With Shatta Michy, Shatta Wale Allegedly Goes After Upcoming Songstress Bigail
LISTEN TO SHATTA WALE BELOW
SEE ALSO: Video: Shatta Wale Takes A Long Convoy To Pent Hall (University Of Ghana)Just To See One Girl -Guess Who