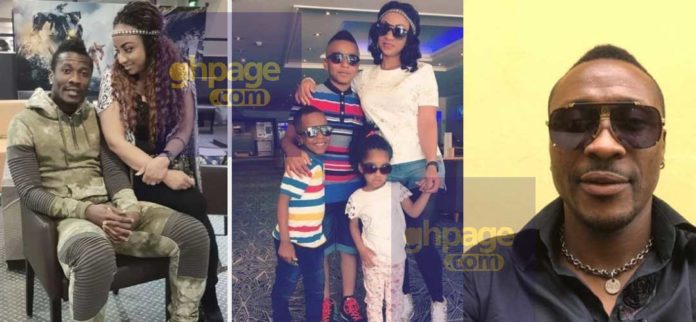 Brother of Blackstars captain Asamoah Gyan, Baffour Gyan has been declared wanted by the East Legon police for seizing the passport of the wife and children of his younger brother.
These past few days Asamoah Gyan and his wife Gifty with whom he has three kids with have been trending after news of their divorce popped up on social media. It has been established that Asamoah Gyan is seeking to divorce his wife Gifty so as he could marry another woman called Nina Atala and has even requested that a DNA test is conducted on their kids to indeed confirm if they were truly his.
Also Read: Asamoah Gyan agreed for Gifty to marry her Italian husband – Close friend reveals
On how Baffour Gyan got hands on their passports, it was revealed that he lied to Gifty and the kids that their grandfather missed and wanted to see them but Gifty told him the kids were in school but he forced them till they cam down to Ghana. 
Upon arriving in Ghana, he took their passports stating that they wanted to work on them and since then all effort by the wife of Asamoah Gyan to get hold of the passports have proved futile which eventually led her to report him to the police who have now declared him as a wanted man.
Also Read: Asamoah Gyan's wife happily enjoy life with her children amid divorce brouhaha
Well, It has been uncovered that Asamoah Gyan never requested for a DNA test to be conducted but rather his senior brother Baffour Gyan is the fighting for the DNA test to be conducted on the kids and has even forged the signature of his brother to that effect.
Sources close to the family have also revealed that Baffour Gyan since the death of their mother some years ago has been trying to make things difficult for Gifty and the kids including sacking them from their "Basillica" home and renting a place for them around spintex and they suspect he is doing so just to get control of his brother's properties.
SEE MORE: Asamoah Gyan's 'secret' son with another lady in Italy pops up