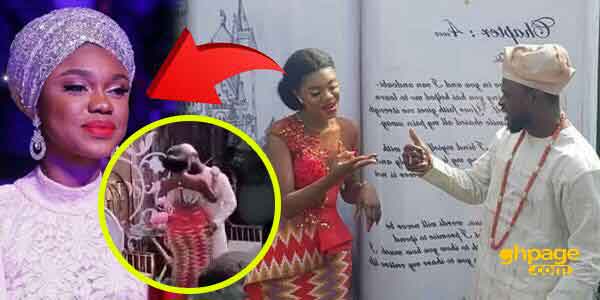 As GHPAGE.com has been reporting, Ghanaian singer, Becca married her Nigerian fiance, Tobi Sanni Daniel at a traditional ceremony in Accra today,18th August 2018.
The musician born Rebecca Akosua Acheampomaa Acheampong was able to keep the identity of her man as a secret for many months.
But GHPAGE.com ahead of their traditional marriage ceremony today, revealed the man to be Daniel Tobi Sanni, a former banker and a Nigerian music producer who used to manage rapper, Ice Prince.
Friends, colleagues, public figures, and Several celebrities have come to support the bride —who has been one of the leading musicians in Ghana in the last 10 years and of course the groom — described in his country as the entertainment generalissimo.
GHPAGE.com has however sighted a stunning video from the ceremony that showed Becca and Tobi dancing to the musician's popular song 'Beshiwo'.
They took center stage to display their dance moves.
Watch the amateur video below;
Several entertainment personalities from Nigeria flew in to celebrate Becca and Tobi as, after this traditional engagement, an actual white wedding and reception will be followed.
READ ALSO: Who's Becca's husband Tobi Sanni Daniel? Up close and personal
Many have tagged this Becca's day as a West African tradition at display as you could see the various cultural display from both Becca(Ghana) and Tobi( Nigeria).