Yesterday,Ghpage.com published the death of a Popular Gay Congolese Man, Paul Arduad who died after a long battle with Anal cancer.
However, a popular Nigerian crossdresser, Bobrisky who was dragged by Nigerians after the report of Arduad's death has reacted to it and thus shared tips on how to avoid an*l cancer if you want to remain gay.
"Aww so sad, He lost his life." Bobrisky consoled with Paul, "But I wanna clear something to some idiot tagging me on this boy's death. One, I never open to anyone yet that am gay", He wrote on his Snapchat.
He continued; "(2). If you wanna be gay, I mean if you wanna receive d*** in your ass then there are procedures. I'm telling you."
Then he gave the steps, on how you can successfully receive the D, without risk of contact Cancer of the Anus. He wrote;
1. Learn how to stick to one partner, if you wanna mess around. You own your life no one can dictate for you.
2. Learn to love yourself first before helping others. Go for medical check up on your health two times in three moth. Please don't go to road side nurse and do check up o. I mean travel out of the country for full checkup. USA best place you can go.
3. Use condom if you really wanna mess around.
4. Eat good meal. I mean more of vegetables and fruits.
5. This is the most important one if you wanna be gay or want to take d***. You need to have money. I mean be rich to always look out for yourself. Your partner own is just to cum inside you that all. But is now left for you to know how to take the cum outside.
READ ALSO:Yvonne Nelson is now a mother — Gives Birth to a Bouncing Baby Girl(Reports)
Here are his snap chats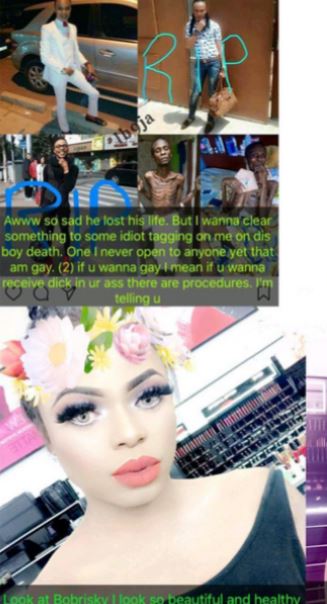 READ ALSO:Killers Spare Actress Naana Hayford's Life