Facebook scamming has been on the alarming for some years now but it seems people are still falling prey to these hungry bastards who use dubious means to lure their victims into sending them huge sums of money.
Stories are often cooked up to defraud victims who are often described as sympathizers or desperate in love.
READ ALSO: Am Not Responsible For My Daughter's Death – Ebony's Dad Breaks Silence On Occult Allegations That Lead To Her Daughter's Death
It has been on the rampant but a scammer who got the bad luck of his life was exposed by his close friend.
The Facebook user by the name Clarence Clark has been making a good living but it's not through legal means according to another user who blew out the fraudulent activities of the man in question.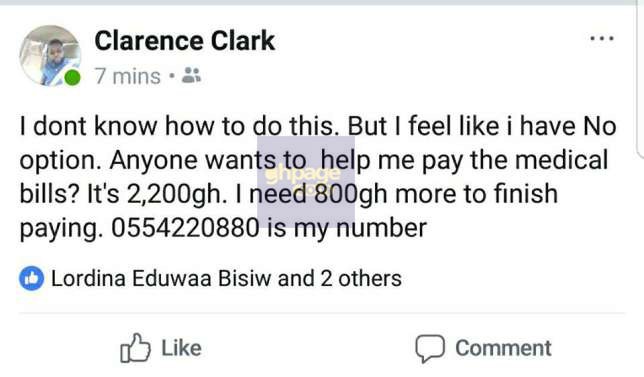 According to Randy Sky Boateng, his day to day activities involves making friends with strangers on the popular social media platform, manipulating them with sad stories and subsequently duping them of their hard earned monies and sometimes he also uses the same medium to publicly asks for money with the same stories.
READ ALSO: This Picture Of EC Boss Charlotte Osei's Daughter Is Driving The Internet Crazy
Randy Sky Boateng launched his own private investigation and got to know of Clark's alleged fraudulent behaviours.
According to him, Clark cooks up sad stories to lure his victims into giving him money. He poses as an orphan in some instances to solicit for money. In other situations, he claims his sister is either dead or in a coma, or his landlord is evicting him due to unpaid rent.
One user also shared his story of how Clark and his girlfriend (whose name and identity is unknown) duped him of $1,500. He is also known have other Facebook profiles like "Kwaku Kwaku".
Below are some screenshots from victims whom Clark tried to dupe.
READ ALSO: These 6 Ghanaian diminutive actors and their ages will surprise you
READ THIS: Here's Ama Born Again -Prophet Nigel's confidant who helped him obtained Juju powers from Gambia [Video]
READ MORE: Popular Man Of God Names The Top 3 Occultic Prophets In Ghana Who Are Leading People To Hell