A Ghanaian Facebook user who goes by the name Nana Kwame Harry has shared an interesting Facebook conversation that transpired between him and a lady who tried to lure him into sending money to her through MTN Mobile Money.
Well, the guy upon sharing the chat revealed how the said lady has been worrying him for just GHC 10
READ ALSO: Man left in total shock after seeing the chats his cheating wife had with a married man (Screenshots)
READ ALSO: Facebook Juju man gets the shock of his life (Photos)
The handsome young guy shared screenshots of the conversation he had with the lady in question on his timeline which got fellow users to share their own screenshots of chats with the same girl. She sends the same chain of a message to people she deems will fall vulnerable to her demands because of her beauty or to demand sex in exchange for a favour.
This is one of the many messages she sends to these guys:
READ ALSO: Guy Shares Screenshots Of Chats He Had With A Lady Disturbing Him For $£x
"Good afternoon dear how are you doing please I am sorry to bother you with this but please I just got a text that our allowance is in please I don't have anything on me now I am in hostel now at Nightingale nursing training at Adenta I beg you in the name of God to help me with 10ghc to board car to Mamprobi Polyclinic to go collect my allowance now please if is not much bother to send it on my number for me please 0550291876 mtn the name on it is Aidoo Gracelyn please thank you," one user shared.
The beautiful whose identity is given Gifty Aidoo claim to be a nurse of Nightingale Nursing Training at Adenta.
Another user also shared his experience of how he was disturbed by a lady whom he had earlier sent GHC10 to.
"I remba sending gh10 to one hungry gal, the following night she WhatsApp asking for 50. life is a little hilarious"
While others are claiming she's a beggar, others are claiming someone might be using her picture just to dupe innocent people.
READ MORE: Facebook 'Slay Queen' Used For Money Rituals (Photos+Video)
Below are screenshots of the numerous chats shared by other Facebook users.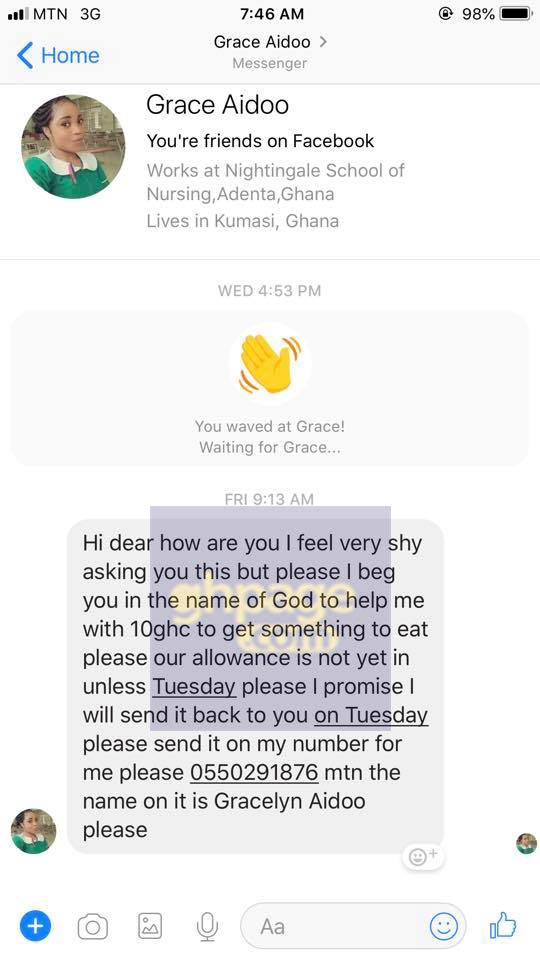 READ THIS: Harriett Danso, An 18-Year-Old Facebook Girl Brags About Sleeping With Men For An iPhone Not Indomie (photos)
READ THIS TOO: Photos: Married Pastor Mistakenly Uploads Photo Of Himself Kissing Another Man On Facebook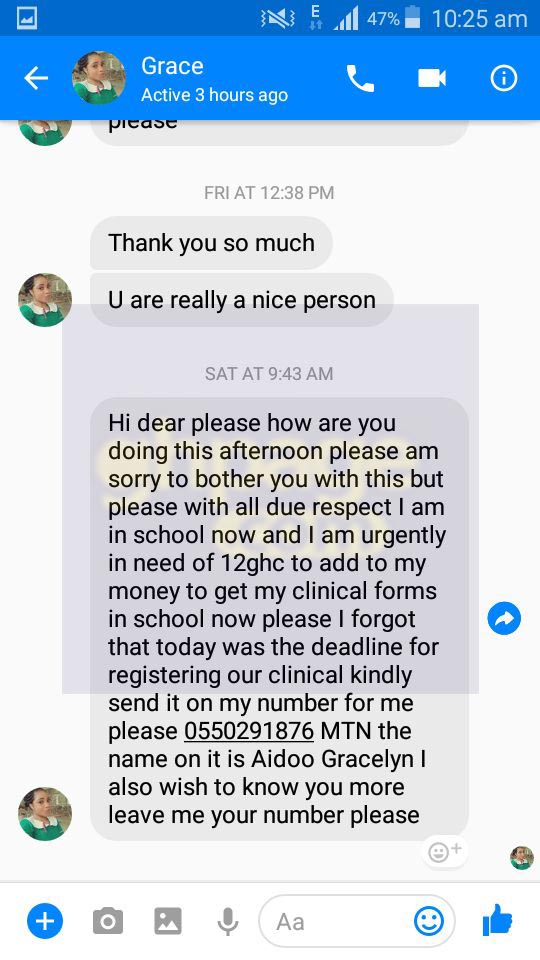 You can share your experience in the comment box below.