Poet Nazir has revealed that he is the cause of the self-acclaimed dance-hall king 'Shatta Wale' and his baby mama Shatta Michy's reunion.
The relationship between multiple award-winning dance-halls acts, Shatta Wale, and his longtime girlfriend, Diamond Michelle Gbagonah, seems to be back on track as they were spotted in a recent video in one of their mansions after a long time beef on social media.
Read Also: Shatta Wale and Michy reunites after long standing feud
In a recent video circulating on social media spotted the 'Taking Over' hitmaker indicating that he never mentioned to anyone that he had broken up with his girlfriend popularly known as Shatta Michy.
"me ano tell any blogger that me and my woman stop, rydee we go chop wanna body" he said.
Read Also: Shatta Michy shared this before Shatta Wale video leaked
However, this prompted 'Poet Nazir' after his post on 'Facebook' some months on about this same issue concerning Shatta Wale and  Shatta Michy's love life after he made a silly remark on Shatta Wale's lifestyle after the breakup with Shatta Michy.
See Screenshot Here: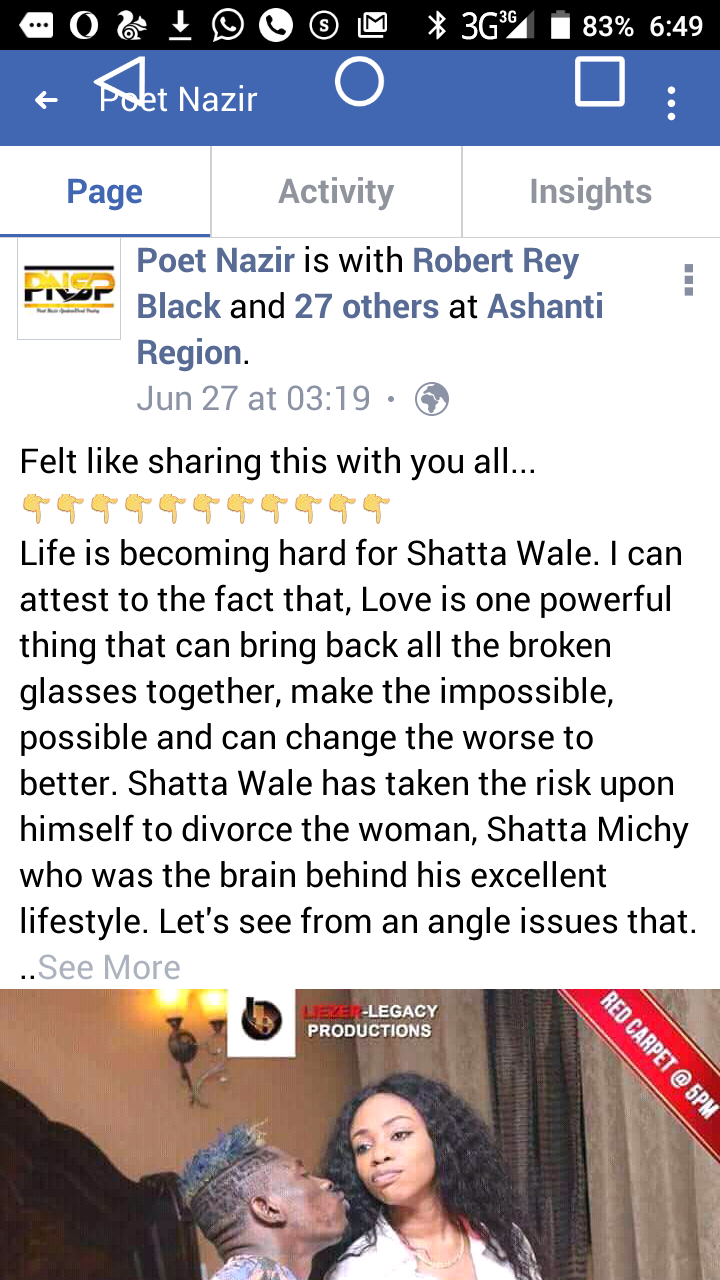 In a new post sighted by Ghpage.com 'Poet Nazir' disclosed he is the cause of their reunions, he added that he really deserves some gratitude.
Read Also: Your Songs Are Meaningless – Shatta Michy Disses Shatta Wale
Shatta Michy, who was seen in the video with her son, Majesty, appeared to be in a lively mood as she was seen going around the house.
Shatta Wale and Shatta Michy made headlines when news broke that their longtime relationship was hitting the rocks.
The SM couple took each other to the cleaners on social media as they revealed their dirty secrets to the whole world.