The Chief Executive Officer of The Cape Coast Montessori School has made shocking revelations about Young actor Emmanuel Nii Adom Quaye a.k.a Strika of 'Beast of No Nation' Fame who has been in the news lately for begging on the streets.
Speaking in an Exclusive Interview with Asaasewura Kwabena Santana on 'Celebrities Parliament' on Benya FM'S Flagship Drive Time 'Efie Akwantuo', Mr. Kumi Bruce revealed that, Strika who is a student of the school has run out of the school on several occasions with the recent being the fourth time.
SEE ALSO: Hollywood Actor now begs on the street of Accra for a living [SEE PHOTOS]
He further Revealed that, though Strika is a good boy, his habit of smoking wee has made it hard for the school authorities to put him under control.
'He kept running away from school. He ran from school ahead of last terms examination. Even the last time we found him was at wee smoker's ghetto. The boss at the Ghetto told us to buy Strika wee (Marijuana) if we want him to stay in School"
When the host quizzed If The Young Actor Smokes, he missed no words by responding in the positive 'Yes He Smokes'.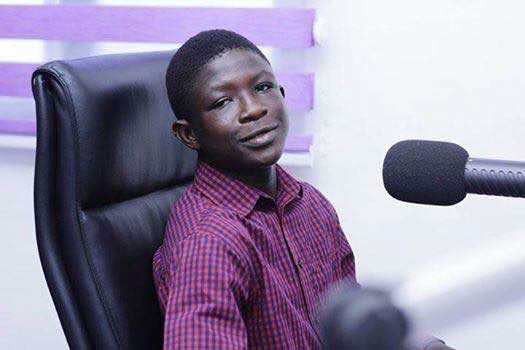 SEE ALSO: The suit we bought for Strika cost GH¢1000 NOT GH¢10K – Manager Reveals
The CEO Stated that Strika and his two other colleagues Justice and Abraham Were in the luxurious school in Cape Coast called Montessori school but Abraham Atta found favor with one of the producers who moved him from the school to the USA to school there.
But Justice, the other boy is still in school but Strika keeps running away from school. This is the 4th time he has run from school.
SEE ALSO: Abraham Atta has changed towards me: he treats me rudely – Strika
Responding to either the school will accept Striker back into the school, Mr. Bruce stated the board of the school will decide but Strika has exceeded a bond he signed after running out of school on three occasions.
News broke that Emmanuel Nii Adom Quaye, the young Ghanaian actor who played the role Strika in the Hollywood movie, Beast of No Nations was begging for money on the streets of Accra to buy food.
LISTEN TO THE CEO OF THE SCHOOL BELOW
https://www.youtube.com/watch?v=dr4XtCB0woU&feature=youtu.be
SEE ALSO: Strika's manager finally speaks – reveals who took his money