An alleged chat of Rachel Appoh confessing that she has slept with Elikem has been leaked online. According to the reports, Rachel Appph was chatting with her former best friend, Afia Schwarzenegger who is now her enemy number one.
In the leaked chat Rachel Appoh revealed to Afia Schwarzenegger how she managed to sleep Elikem Kumordzie.
SEE ALSO: Former MP, Rachel Appoh operates an abortion business- Elikem's Sugar Mummy
Apparently, Rachel Appoh invited Elikem to her house to come for a special cake. It was then she had the opportunity to sleep with the famous fashion designer.
Rachel Appoh who obviously had a great time with the young Elikem Kumordzie revealed that they did "not just have sex, they made love".
SEE ALSO: Residents of Gomoa Central attack Afia Schwar for fighting Rachel Appoh
READ THE CHAT BELOW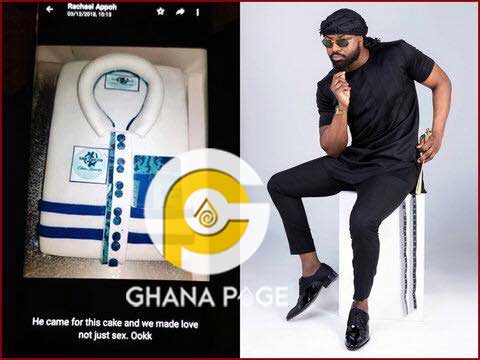 From the look of things, the leak came from no other person than Afia Schwarzenegger. After all, she was the person Rachel Appoh had the chat with.
SEE ALSO: I don't respond to depressed people- Rachel Appoh shades Afia Schwarzenegger
For weeks now, Afia Schwarzenegger has made it her life mission to expose Rachel Appoh's affair with Elikem. Rachel has come out to deny all the allegation and has also alleged that Elikem's ex-sugar mummy hired Efia to tarnish her image.
Elikem too has reacted to the news. He claims he worked with Rachel Appoh when she was the executive prouder to a TV series he produced.
SEE HERE: Rachel Appoh is a human being; there is nothing wrong if I sleep with her – Elikem Kumordzie
Elikem, however, added that "if he has slept with Rachel Appoh, she is also a human being and a woman".