Beautiful Nigerian actress, Chike Ike after days of silence has spoken on rumors that she is set to be the 7th wife of Nigerian Billionaire, Ned Nwoko who happens to be the husband of a young actress, Regina Daniels.
Besides being known as one of Nigerians billionaires, Ned Nwoko's popularly shot up after he married Regina Daniels as his 6th wife.
But it's been rumored for a while now that he is set to married Chika Ika as his 7th wife. The rumors had no substance until Regina Daniels's mother went on an attacking spree a few days ago.
SEE HERE: Chika Ike warned by Regina Daniels mother to stay off Ned Nwoko
The angry woman threatened to attack Chika Ike spiritually if she doesn't leave her daughter's husband. She vowed to deal with her drastically in the video which went viral.
Well, after days after the social media attack, Chika Ike has spoken on the rumors fast trending. She claims the rumors are all false.
According to the actress, she is not dating Ned Nwoko and she has no intention of becoming anyone's 7th wife. She even added she will never do that in her life.
A fan of Chika Ike took to her Instagram comment section to find out if indeed she is dating Ned Nwoko and ready to be his 7th wife.
The fan asked: "There's a rumor going on, are you really dating Ned Nwoko, are you going to be the 7th wife":
Swiftly, Chika Ike replied: "No I am not and I'm not about to be anyone's 7th wife… Never!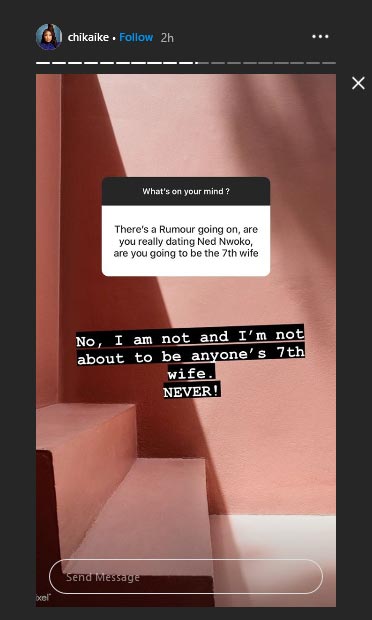 Meanwhile, Regina Daniels appears unbothered about the fracas between her mother, husband, and Chika Ike trending online. She was spotted in a new video dancing her heart out with no care in the world.