Social media was set ablaze when videos of foreign owned shops, properties, cars and houses being burnt by some South African xenophobes surfaced online.
These xenophobic attacks were mostly targeted towards black owned businesses specifically Nigerian businesses operating in South Africa.
It is the view of some South Africans that foreign nationals have taken over their jobs and economy it is their strong opion that driving them away, would help regain their jobs and economy.
They are also of the opinion that most sex trafficking rings, drug businesses and diamond smuggling operations are being run by Nigerians hence their decision to loot, burn and destroy properties belonging to Nigerians not regarding if they are actually involved in the above mentioned acts.
Reacting to these tragic happenings, Nigerian Afro-pop musician, Davido took to his Insta Story to comment on these violent incidents.
He lamented about the economic situation in Nigeria causing Nigerians to migrate to other countries in search of greener pastures.
He wrote;
"If our country good, wetin we go find for Southy?"
SEE POST HERE: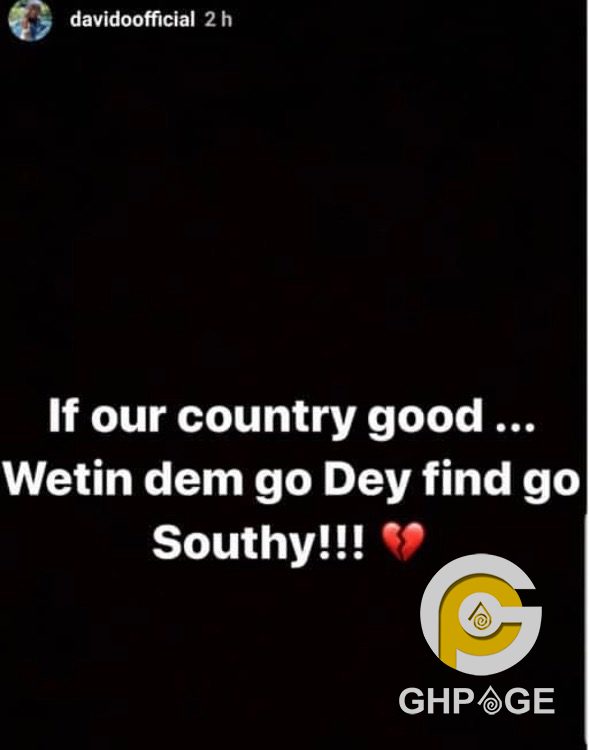 Several notable figure have condemned the xenophobic attacks targeted at foreign nationals legally working, running businesses and living in the country.
The Xenophobic attacks has also sparked boycott of South African owned Businesses operating in Nigeria such as MTN, Shoprite and DSTV. This attacks threatens to ruin the diplomatic ties between the two African Nations