On 30th November 2019, Medikal held the first-ever Welcome to Sowutuom Concert and it was spectacular.
The Concert meant to give back to the people of Sowutuom for being there for him since he began his music career saw many Ghanaian musicians mounting the stage.
SEE ALSO: All the photos and videos you missed from Keche Andrew and his boss, Joana Gyan's wedding (See)
Besides the many artists who were on the bill, the concert had other surprised artists mounting the stage.
One of the surprises artists for the night was his former girlfriend, Deborah Vanessa aka Sister Derby. Derby performed some of her songs to the delight of the thousands of fans.
Whiles many people were excited Medikal has finally made peace with Sister Derby, it turned out not everyone was happy for the reunion.
SEE ALSO: John Mahama's bodyguards 'assault' Rev. Owusu Bempah at Assemblies of God Church in front of JM (Photos)
According to Sister Derby after the concert Someone, a female was angry she came to the show and gave her disgusting treatment.
Derby explains that she has never felt soo much hate from one person. The look the person gave her was soo full of hate that it seems she wanted her to just disappear.
But Derby claims she has never harmed her or even anybody close to her to receive such scorn.
SEE ALSO: Lady accuses NPP's Hopeson Adorye of using National Security to stage a robbery at her hotel – Proves her claims with CCTV footage on that day (Photos)
Although Derby did not mention anyone's name, it is not far fetched to know that the hateful person was no other person than Fella Makafui.
Judging from the fact that Fella was the one who stole her boyfriend, she has no moral right to be pissed they made peace
Read Derby's post below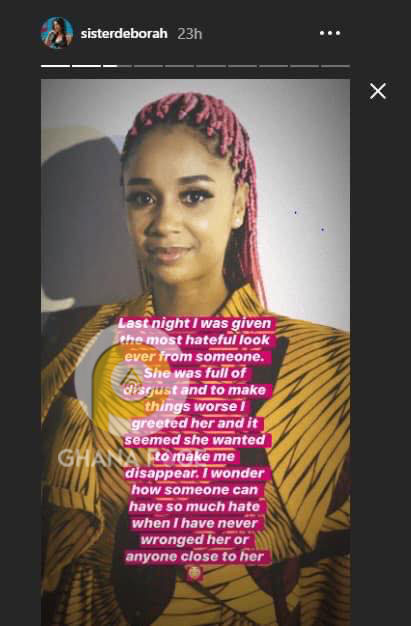 SEE ALSO: Transgender: Another Ghanaian man who has changed into a woman pops up – Tells his weird story in a new video (Watch)
Ghana Celebrities smh. Stay with Ghpage.com for all your celebrity news update both in Ghana and international.