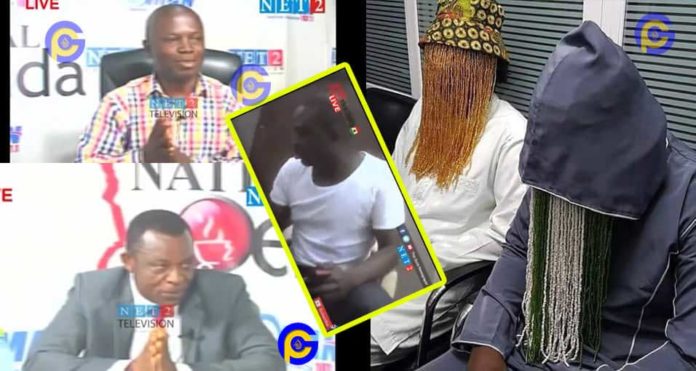 One of the judges who was caught in Anas Aremeyaw Anas exposé centered on corruption in Ghana's judiciary service has broken his silence in an interview on Net2 TV. According to the judge, Anas is a rogue, a criminal, and evil man.
His Honour Isaac B. Akwantey – Circuit Court judge of Wa in the Upper West Region of Ghana was among the 20 lower court judges who was sacked following Anas' exposé. They were all caught on camera taking bribes to subvert justice in their courtrooms.
SEE ALSO: Anas' body has begun to rot-Kennedy Agyapong
But in an exclusive interview on Net2 Tv owned by Honorable Kennedy Ohene Agyapong, the dismissed judge, His Honour Isaac B. Akwantey has alleged that Anas added him to the judges' scandal because he jailed his brother
According to the disgraced Judge, Anas Salifu, a brother of the award-winning journalist was brought before him for an offense in Wa. Due to the offense, he sentenced Salifu Anas to 4 years in jail.
SEE ALSO: Kennedy Agyapong shows Anas exposé part 2 & interview with Sheikh Al Thani
At the time, he didn't know Salifu Anas was related to Anas Aremeyaw Anas but it all makes sense to him now. His Honour Isaac B. Akwantey claims Anas video which captured him taking a bribe was doctored because it made no sense he could have taken a bribe right in the middle of a court session.
Besides, in the court case, he was alleged to have taken a bribe to give a 13-year-old boy a bail would have ended up the same way because the law explicitly states a juvenile cannot be sent to a maximum security prison or equivalent.
SEE ALSO: Kwesi Nyantakyi lists GFA officials that aided Anas' investigations to destroy him
The dismissed judge revealed he was a lawyer for Lands Commission and Ghana Immigration service before finally becoming a judge. He was a judge for 10 years and has been a lawyer before that for another 10 years before "Anas trapped him" leading to his dismissal.
Watch His Honour Isaac B. Akwantey tell his story below
SEE ALSO: Muntaka defiled a 12-years-old girl-Kennedy Agyapong
The judge was invited to the studio of Net2 Tv following the owner, Kennedy Agyapong's campaign to exposed Anas as fake and a criminal investigator.