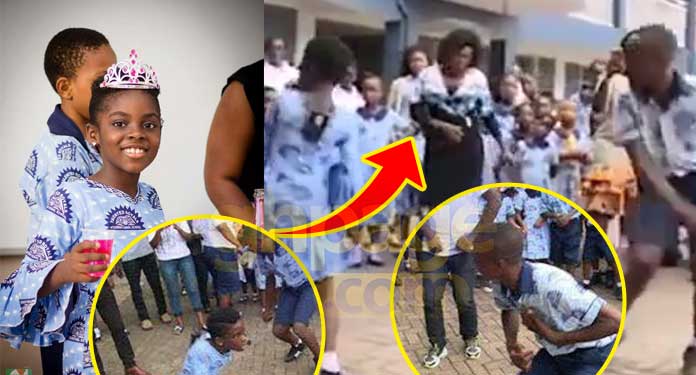 Ghpage.com has sighted a video of Ghana's youngest female DJ, Erica Tandoh, known in showbiz circles as DJ Switch in a dance competition with her headmaster.
The video which is making on various video streaming platforms sees DJ Switch doing the 'Gwara Gwara' and 'Shaku Shaku' dance respectively and it's so lovely to watch as she engages her headmaster and another student in the dance battle at her new school in Kasoa.
Read also: These Amazing Photos Prove DJ Switch is the Cutest Celebrity Kid In Ghana Today
The award-winner for TV3 talented kidz Season 8 was recently invited to join renowned personalities including Melinda Gates, Bill Gates, Ed Sheeran, and a host of other carefully selected speakers from around the world to share their stories of challenges, innovation, and leadership.
DJ Switch at the Goalkeepers 2018, exhibited an impressive performance with her Djing skills to cheer the world leaders.
Watch the video of DJ Switch dancing with her headmaster below…
Read more: DJ Switch ushered into the TV3 Wall of Fame