Controversial Ghanaian musician and member of the New Patriotic Party (NPP), Kwame Asare Obeng popularly known as Kwame A Plus has said that Donald Trump is justified to describe African countries 'shitholes'.
According to A Plus, African continent suffers several accidents that should not happen in the twenty-first century.
In a post on Facebook, he could not fathom why in the twenty-first century, some Africans including Ghanaians will queue just to have access to toilets.
Kwame A Plus says he is surprised why people build houses on daily bases but laws are not enforced to have them add important facilities such as a toilet.
READ ALSO: Africans on Twitter Respond To President Trump After He Referred To African Countries As 'Shitholes'
"Today, 2018 people queue to shit in Accra, the capital of Ghana. Nigeria is worse with all the oil they have. Today in 2018 you find cattle roaming graphic road, in the capital of Ghana. Come to Spintex, in this day and age, one of the biggest slums in the world called Cambodian is fast growing. Something bigger than the "Sodom and Gomorra" that has become a national security threat," He stressed.
In addition, he said, "today 2018 when people are planning Mars mission we still build open drains. It took about 3 to 4 years to build the Eurotunnel. A 50.45-kilometre (31.35 mi) rail tunnel linking Folkestone, Kent, in the United Kingdom, with Coquelles, France. It took Ghana one and half years to renovate a five minutes' walk Adome Bridge".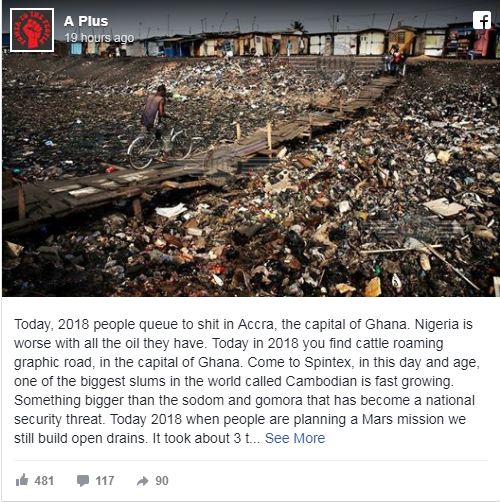 With all the above lamentations, A Plus believes that Donald Trump is putting African leaders on their toes.