Nana Opoku Kwarteng the father of late Priscilla Opoku Kwarteng aka Ebony Reigns before the burial of his daughter on 24th March promise to make wild revelations after his daughter's burial and he has not been disappointing at all.
Not long ago, he revealed that Bullet used to physically abuse Ebony when she was alive and was signed unto Bullet's Rufftown Records.
SEE ALSO: Ebony's Father Speaks – Mortuary Man Who 'Defiled' And Filmed My Daughter Will Pay Dearly
In a new interview, Nana Opoku Kwarteng has accused Bullet and his Rufftown Records of contributing to the untimely death of his daughter.
Explaining, the grieving father stated that, Ebony was poorly managed and if the management did their work well, Ebony wouldn't have embarked on the journey that took her life or even if she did, it would have been through a safer way.
SEE ALSO: Ebony's Father Says The Money He Got From Ebony's Funeral Is Too Small & He Wants More
He added that Bullet did well to discover and trained his daughter to be a star but he failed to manage her well when she became a superstar. He blames them partly for Ebony's death.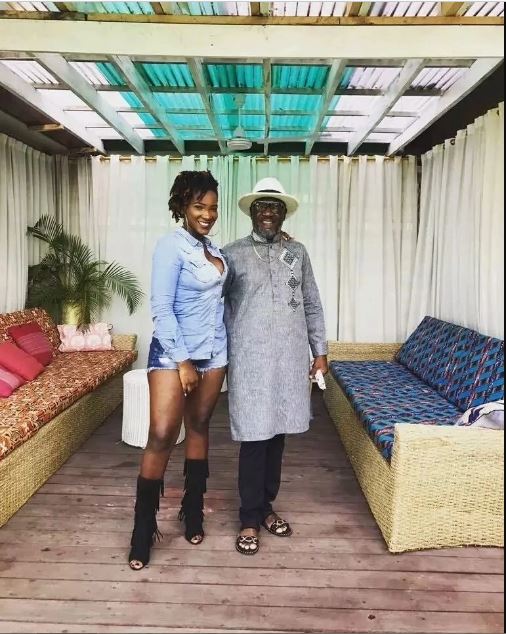 "Nana Hemaa (Ebony) traveled very late in the night when Bullet (her manager) was abroad, according to him. A good management team handling a 21-year-old superstar should have taken good care of her."
"Somebody should have been with her on that journey, somebody should have corrected her as she shouldn't have made that journey on her own."
SEE ALSO: Check Out Photos Of Oforiwaa Opoku-Kwarteng, Ebony's Beautiful Sister At The VGMA 2018
"That is proper management, Ghanaians take things too easy. There's more to the word management, I'm not being ungrateful but management should not be only about the music aspect of the artiste."
"When you're managing someone, the person's movement and all that concerns her is your concern. You don't care the strength of that person, you take the decision for the person that's why you are the manager."
SEE ALSO: VGMA 2018: The Worse Dressed Personalities Of The Year Goes To Patapaa And Ahuofe Patri
"You've taken her from nowhere and you made her a star, if you're her manager then your concern couldn't have been only the music aspect. As a father I did my bit, I expected management to do their part. T"
"he bit about my daughter embarking on that journey means someone failed woefully in doing his job, she didn't have that right to say she was traveling to visit her mother without any management member knowing or accompanying her. Management should have arranged that journey and make sure she was safe", Mr. Kwarteng said.
SEE ALSO: Check Out Photos Of Oforiwaa Opoku-Kwarteng, Ebony's Beautiful Sister At The VGMA 2018