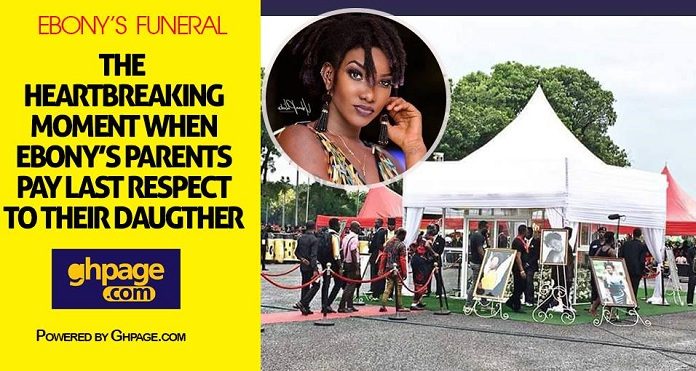 In as much as the fans and loved ones are in pains ever since Ebony died, her parents are suffering more. Only God knows what they are going through, especially her father whom she was very close to.
Yet today, Nana Opoku Kwarteng, the father of Ebony Reigns and her Ebony's mother paid their last respect to their beloved daughter. It was indeed a sad moment.
SEE ALSO: Video: You Will Weep Watching The Video Of Ebony Reigns Laid In State
No parent has to bury their child but unfortunately, it happens and we have to deal with the pains. Ebony Reigns born Priscila Opku Kwarteng has been laid in state at the forecourt of the state house.
Ebony's parents were the first to file past the remains of their beloved daughter. Very sad moment. Watch below.
SEE ALSO: Watch Sarkodie's Spectacular But Tearful Performance at Ebony's Tribute Concert
WATCH VIDEO BELOW
SEE ALSO: Video+Photos: Tears flow as Ebony's bodyguard, Francis Atsu Vondee is laid in state