After the accident on the Friday dawn 9th February 2018, a few kilometers after Bechem in the Brong Ahafo Region, the remains of Ebony Reigns, Francisca Maame Yaa Teboa Nkansah aka Frank Kuri, and the military officer, Francis Atsu Vondee were deposited at the Mankranso Mortuary in the Ahafo Ano North District in the Brong Ahafo Region.
SEE ALSO: Meet Frank Kuri Ebony's Friend Who Died With Her In The Car Accident [SEE HER PHOTOS
According to a Twitter user who goes by the handle Cedric Harding who happens to be very close to the family of Frank Kuri, he togther with Frank Kuri's father who is a pastor and other family members amidst tears has brought home Franky's body 3 days after the accident.
In a series of tweets, Cedric Harding took his followers through the journey home. He started by sharing a photo of the car accident and revealed that the Emergency unit had to cut through the roof to remove the remains of Ebony and Frank Kuri.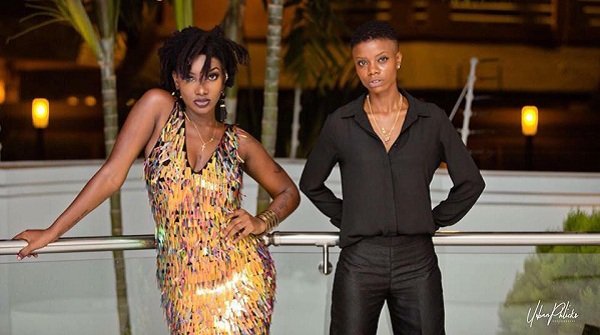 SEE ALSO: Ebony's aunt is behind her death & She was a chronic Lezbian-Prophet Nigel Gaisie
Ghpage.com also gathers that family and loved ones wept uncontrollably when Franky's body was finally brought home.
May The Soul Of Francisca Maame Yaa Teboa Nkansah aka Frank Kuri Rest In Perfect Peace
Check out some of Cedric Harding's tweets below:
https://twitter.com/C3rdric/status/962277139922944000
Almost home…
It's been a long day. @B_da_maestro, his dad (pastor Frank) and I just arrived. Franky is here in Accra and at a funeral home. Will be treated with much more care. I won't be answering to any inquiries anymore. Please Contact family for any details. @jay_silas @b_da_maestro

— Manny ?? (@C3rdric) February 11, 2018
Franky is home…
It's been a long day. @B_da_maestro, his dad (pastor Frank) and I just arrived. Franky is here in Accra and at a funeral home. Will be treated with much more care. I won't be answering to any inquiries anymore. Please Contact family for any details. @jay_silas @b_da_maestro

— Manny ?? (@C3rdric) February 11, 2018
SEE ALSO: Photos: Abeiku Santana, Counselor Lutterodt, Lebene & others visit Ebony's dad to mourn with him