Zylofon music art club songstress Efe Keyz has thrown shades at RuffTown record signee Wendy Shay to cover up her rashes buttocks from the public since it's not classic like hers (Efe's).
Pictures surfaced on social media of "Bedroom Commando" hitmaker Wendy Shay showing some part of her ass in a performance but the picture was bad that social media users took to social media to troll her for showing her rashes infested ass to the public.
Also Read: Wendy Shay blasted for exposing her rashes infested b00ties
Efe Keyz who is fast rising artiste under the Zylofon label has also joined those trolling Wendy Shay by posting a picture of herself also shaking her backside to during a performance.
She captioned it: "If it doesn't look this Classic Cover up…. ??????
Don't force to be a Diva …. #juju #performer #Diva" 
See Screenshot below: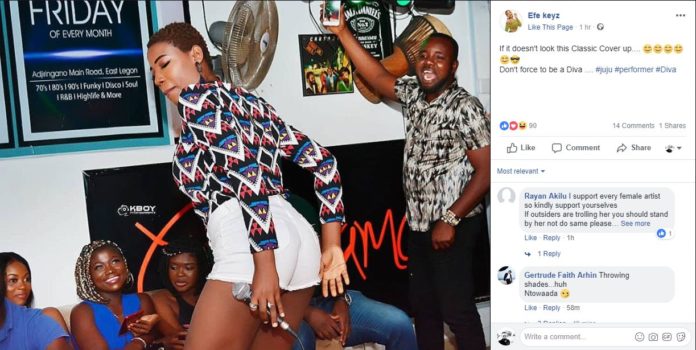 So far, Wendy Shay has responded and stated that the picture was photoshopped by her enemies to tarnish her image.
SEE MORE: Wendy Shay angrily reacts to the nasty viral photos of her