A lot of damning things have been revealed about the Kumawood actress Emelia Brobbey by Nana Frema Denteh a UK based Ghanaian lady who says she is a TV host and an actress.
She started by revealing that Emelia Brobbey does not know the father of her two children because she slept with many men so she couldn't pinpoint the real father.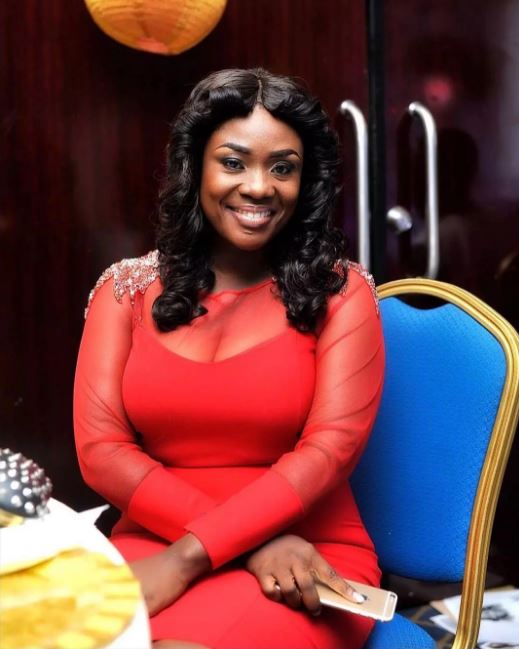 SEE HERE: Video: Emelia Brobbey doesn't know the father of her kids because of Secondary school days and present day prostitution-Tv host Nana Fremah Denteh aka Cocoa Butter Broni reveals other 'dark' secrets of the actress
According to Frema, Emelia's first child was born when Emelia was in Secondary school but since she slept with almost all her classmates, she couldn't tell who the real father was.
The TV host went on to reveal that the second father of Emelia's child, Dr. Boateng of End Point Homeopathic Clinic kicked her out because she was not sure the child was his. Besides that, Emelia Brobbey was stealing from the doctor.
READ AND WATCH HERE:Reasons why Emelia Brobbey's marriage to Dr. Boateng of End Point Homeopathy Clinic collapsed finally revealed [Watch Video]
Well, there is an interesting twist to the ongoing drama now. From new information, Ghpage.com is picking in connection with the whole drama, Emelia's former friend, and colleague actress, Ellen White is behind all the attacks from Frema.
Do you remember when Ellen White was shamed back in 2017 for being caught in bed with Dr. Kofi Adu Boateng, the ex-husband of her friend and colleague actress Emelia Brobbey? Well, Obaa Yaa Tiwaa says this is the payback organized by Ellen White.
SEE DETAILS HERE:Photo Prove: Ellen White allegedly caught in bed with Emelia Brobbey's ex-husband ( +Photos)
According to the woman who is equally based in Europe, Frema is needlessly attacking Emelia Brobbey just to settle the scores between Emelia Brobbey and her friend Ellen White.
SEE ALSO: Did You Know Emelia Brobbey Despite Her Holy Attitude Is A Drunkard? Another Actress Exposes Her[Watch Video]
Ghpage.com has reached out to both Emelia Brobbey and Ellen White for their side of the story but at the time of putting out this report, nothing has been heard from them.
SEE ALSO: 'Stealing a bracelet' to a 'husband snatcher' ~Four scandals that nearly broke down Emelia Brobbey
Stay with

Ghpage.com

for all your updates.
WATCH

VIDEO

AND

LISTEN

TO OBAA YAA TIWAA BELOW
https://www.youtube.com/watch?v=Qzv-pKsLffQ&feature=youtu.be
SEE ALSO: Emelia Brobbey-Ellen White husband snatching brouhaha, Vivian Jill finally breaks silence