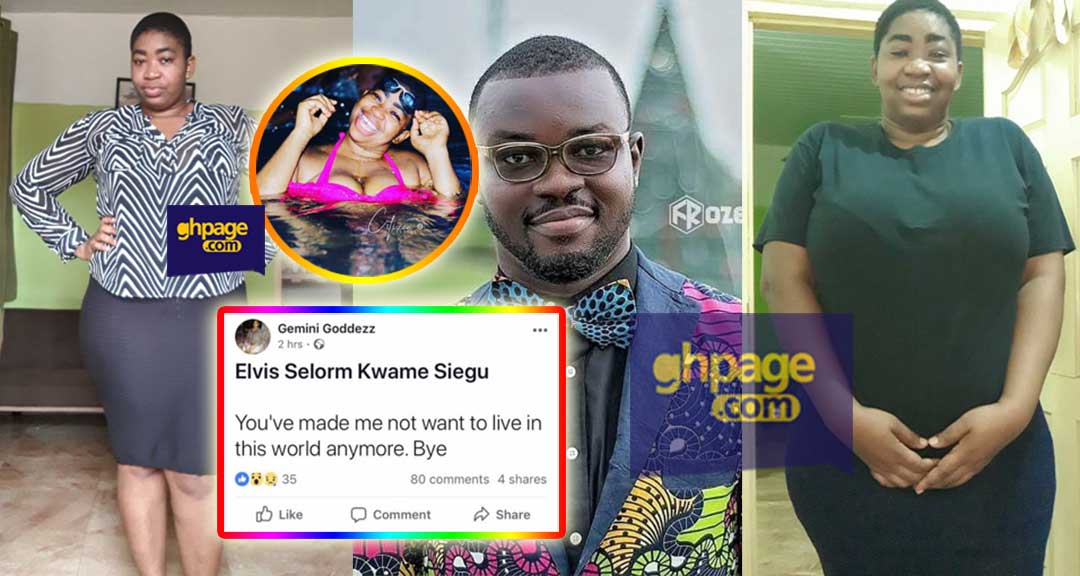 Popular Ghanaian Slay Queen on Facebook who goes by the name Gemini Goddezz has threatened to commit suicide after being dumped by her boyfriend.
The boyfriend has been identified as one Elvis Selorm Kwame Siegu and from all indications, Gemini Goddezz was deeply in love with him and expected them to probably live forever.
SEE ALSO: A Plus' wife weeps on social media after fans mocked her for being fat
Crying Gemini Goddezz took to her timeline on Facebook to cry pathetically over Elvis who has dumped her.
At a time, depression set in and Gemini Goddezz bid her friends' goodbye —Seemingly, without Elvis, life is meaningless.
SEE ALSO: Photos of Moesha Boduong's 'fake' buttocks shifted to her hips goes viral
Gemini Goddezz posted on Facebook:
"Elvis Selorm Kwame Siegu You've made me not want to live in this world anymore. Bye"
This statement as stated prompted people who rushed to her house. As at now, Elvis Selorm Kwame Siegu has also rushed to the side of Gemini Goddezz and Ghpage.com gathers she is getting a little better.
SEE ALSO: This is the SMS sent to Menzgold investors to go for their dividends
Others have also stated, Gemini Goddezz confessed and had threatened to commit suicide after drinking her head off for days after the boyfriend dumped her.
Chaley…these slay queens will kill us oo…lol
SEE ALSO: Today is my last day on earth – Former AIDS ambassador