A young Ghanaian lady has been left with a disfigured face after undergoing an unsuccessful facelift procedure.
In a trending video, the lady can be seen in pain with her face looking like a beaten boxer.
Social media users who have come across the video have slammed the lady for not being content with the face God blessed her with.
READ ALSO: Full part 2 bedroom video of Nollywood actress Moyo Lawal surfaces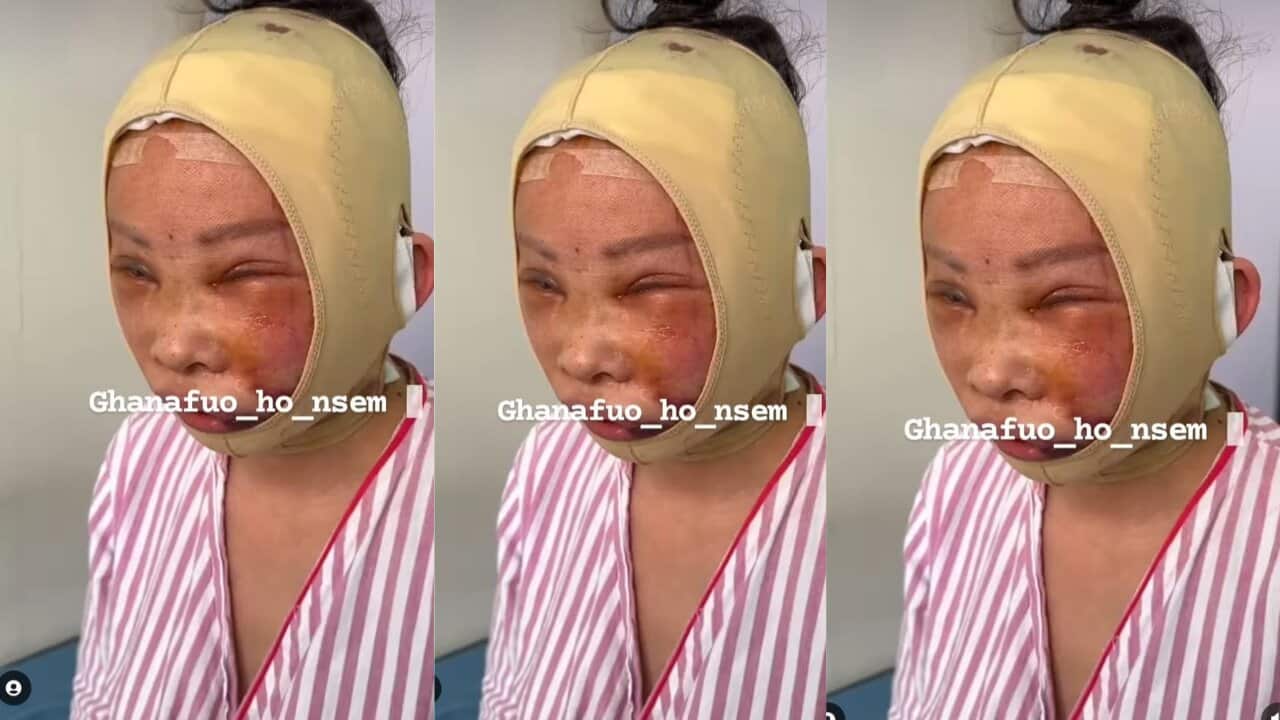 And in an attempt to prove that she's wiser than the creator, she has been left with an unrecognizable face.
Below are some of the comments gathered under the viral video…

@Shitobiy3guy – I thought she was just coming from the boxing Arena
@Prinzbri – She just want to come Chinese keke n not to impress any man 
@Delay.ba – What is she did it for herself ? What is she didn't like her looks comparing it to others ? What if she lost her confidence because of her looks ? Can we consider these too or it doesn't count ?
@Maame Akosua – I thought she was beating
READ ALSO: "Moyo Lawal leak video" – Netizens react
@Mrel360 – Fingernails, hair, bombom, eyebrow, eyelashes, lips, stomach, skin colour, all these things are changed or add ons by women……Meanin God dont have sense to give what they have now.
@Rolaet GH – Hw3 nenim as3 neat fufu
@mHYX – Aaaa but some people are brave paaaa oooo eii, because eiiii. Boi3. Sometimes their after is even annoying.
READ ALSO: Third bedroom video of Nollywood actress Moyo Lawal surfaces online
A facelift, medically known as rhytidectomy, is a cosmetic surgical procedure designed to improve the appearance of the face and neck by reducing visible signs of ageing.
It is one of the most common and effective ways to rejuvenate the face and achieve a more youthful appearance. Here's everything you need to know about facelifts:
Purpose: Facelift surgery is primarily performed to address the following concerns:
Sagging or drooping skin on the face and neck
Deep creases and wrinkles, such as laugh lines and marionette lines
Loss of facial volume and contours
Jowls or a double chin
Loose, excess skin on the neck

Procedure
Facelift surgery is typically performed under general anesthesia or intravenous (IV) sedation. The surgeon makes incisions in inconspicuous locations, such as along the hairline and behind the ears. The skin is then lifted, and underlying tissues may be repositioned, tightened, or sculpted as needed. Excess skin is trimmed, and the incisions are closed with sutures or staples.
Types of Facelifts:
Traditional Facelift: Addresses the lower face, jowls, and neck.
Mini Facelift: Focuses on a smaller area and has shorter incisions.
Mid-Facelift: Targets the middle of the face, including the cheeks and nasolabial folds.
Lower Facelift: Concentrates on the jawline and neck.
Neck Lift: Specifically improves the appearance of the neck.

Recovery
After a facelift, patients can expect some swelling, bruising, and discomfort, which typically subsides within a few weeks. Most people can return to normal activities within a few weeks, but it may take several months for the final results to become apparent.
Results
A well-performed facelift can provide a more youthful and refreshed appearance. However, it's essential to have realistic expectations.
The results can last for several years, but the aging process will continue, so some patients may choose to undergo additional procedures or non-surgical treatments to maintain their appearance.
Risks and Complications
Like any surgical procedure, facelifts carry some risks and potential complications, including infection, scarring, bleeding, nerve injury, and anesthesia-related issues. It's crucial to choose a qualified and experienced surgeon to minimize these risks.
Cost
The cost of a facelift varies widely depending on factors such as the surgeon's expertise, geographic location, and the extent of the procedure.
It typically includes surgical fees, anaesthesia fees, facility fees, and post-operative care.
Alternatives
In addition to surgical facelifts, there are non-surgical options for facial rejuvenation, such as Botox, dermal fillers, laser treatments, and chemical peels. These treatments can provide temporary improvements without the downtime associated with surgery.
Before undergoing a facelift, it's essential to consult with a board-certified plastic surgeon. During the consultation, the surgeon will assess your concerns, medical history, and expectations to determine if you are a suitable candidate for the procedure.
Long-Term Care
To maintain the results of a facelift, it's essential to follow a healthy lifestyle, including protecting your skin from sun damage, maintaining a stable weight, and not smoking, as these factors can contribute to the aging process.