A former nurse who worked with the controversial Obengfo Hospital between the 2013 and 2017 has named some celebrities who visited the hospital to see the embattled doctor to help shape their bodies and it comprises of both Ghanaian and Nigerian celebrities.
According to the report sighted on Mynewsgh.com by Ghpage.com, the list released so far by the former worker lists Ghana's own socialite Moesha Buduong, Joselyn Dumas, Ghanaian based Gambian Princess Shyngle and Nigerian actress Omotola Jalade Ekeinde.
Also Read: Dr. Obengfo breaks the silence on Stacy's death
The embattled Dr Obengfo who we learned keeps a list of his clients very confidential however sometimes relied on the nurse to update the list for him with names, dates, and photographs of before and after attending to his clients.
Shedding more lights on what happened with Moesha, the nurse revealed that she didn't take note of Moesha until after the surgery process when Moesha started making waves "all over the place".
But she recalled Moesha got a waiver of some of the cost in return for her modelling as. Advanced Body Sculp Hospital at Obengfo.
Also Read: Nana Frema defends Dr Obengfo in a live radio interview
Moesha upheld her end of the deal until later when she backed off and paid the money difference to Obengfo in return he was to delete all her model photos for the hospital on social media.
We also had the chance to get a picture the before and after of Joselyn Dumas, as she visited Obengfo Hospital as one of its early clients before it made a name.
Joselyn Dumas was struggling with weight loss after the birth of her son and was very plump. You will see the attached picture.
Also Read: Dr. Obengfo reveals tall list of his clients on live radio
According to the Nurse, Joselyn used her influence to introduce her Nigerian friends to Dr. Obengfo.
In fact, the nurse made reference to a December 2014 story which Dr Obengfo sponsored in the Graphic showbiz to hype some of his select clients. This included Joselyn Dumas, Shyngle, among others.
Also Read: Moesha and Florence Obinim granted Dr. Obengfo's bail of GHC 100,000 – Afia Schwarzenegger
The Graphic showbiz story was shared by Dr Obengfo himself in 2014 on Facebook to encourage more clients to come.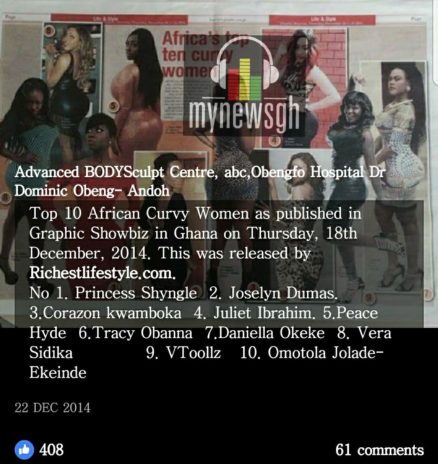 Dr Dominic Obeng- Andoh or Obengfo as he is known, is the owner and manager of Advanced body Sculpt in Ghana. He has been in the news, and lately, was caged by the police for allegedly 'murdering' the Deputy Chief Executive Officer for National Entrepreneurship Innovation Programme (NEIP). He has since been on bail.
SEE MORE: Stacy Offei Darko Allegedly Died During An Abortion And liposuction