Ghpage.com reported yesterday that the president of Ghana, Nana Addo Dankwah Akufo-Addo has nominated NDC card bearing member and former Attorney General Martin A.B.K. Amidu as Ghana's first ever Special Prosecutor to fight corruption.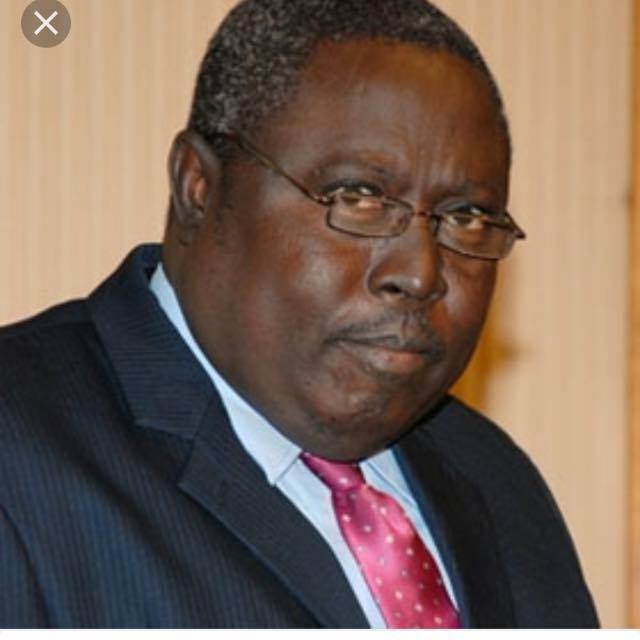 SEE DETAILS: Nana Addo names Martin Amidu as Special Prosecutor
The Parliament of Ghana which is on recess will be resuming on 23rd January 2018 and they are expected Barring any unforeseen circumstances to approve the president's nomination.
As Ghanaians wait for Parliament to resume work in a few weeks time, Ghpage.com presents you with a summary of the biography of Mr. Martin Amidu.
SEE ALSO: The Late Hon JB Danquah killer, Daniel Asiedu Released and the reason for their discharged is sickening
Personal
The full name of the president's nominee for the special prosecutor position is Martin Alamisi Burns Kaiser Amidu. He is from the Builsa of the Upper East Region.
Mr. Martin Amidu grew up in the Daduri area of Bawku in the same Upper East Region. He is married with three children.
Education:
Mr. Martin Amidu started his basic education in Bawku and then proceeded to Tamale in the Northern Region for his Secondary School Education.
After his Secondary School Education, the man who will be Ghana's first special prosecutor gained admission to the University of Ghana. He graduated in 1976 with n LLB (Hons). From there, he enroled at the Ghana Law School completing in 1978 to become a Barrister/Solicitor at Law.
Mr. Martin Amidu also holds Masters of Arts Degree in Conflict Resolution from the Antioch University, Ohio, USA.
SEE ALSO: Valerie Sawyerr takes on Rawlings, Amidu and writes: Ntomtom or Nwansena?
Law Career
Ghana's first special prosecutor to be, Mr. Amidu is known in Ghana and beyond as an astute lawyer who abhors corruption. He is a successful lawyer both locally and internationally. He has made his mark as a private legal practitioner and in public when he served as the Attorney General of Ghana.
Mr. Martin Amidu who currently works as a professional conflict resolution consultant has also authored six legal publications which have been lauded as outstanding by renowned law practitioners.
Politics:
The founding member of the NDC, Mr. Martin Amidu started his political career as a strong member of the June 4th Movement lead by the former president Jerry John Rawlings. During the Military regime of the PNDC, Mr. Amidu held several positions.
When Democracy was restored and Former President Jerry John Rawlings was voted as the president in 1992, Mr. Amidu served as the Deputy Attorney General for all the 8 years Jerry Rawlings was president.
He stood as the running mate for the late Professor J.E.A Mills in the 2010 elections. The NDC lost that election to the NPP. When the NDC came back to power in 2008, Mr. Amidu served as the Interior Minister under professor Mills from 2010-2011 and Attorney General from 2011 to 2012. Unfortunately, he had fallen out with his own party members and he was ousted out of the party.
SEE ALSO: J.A Kufuor explains why he can't be friends with J.J Rawlings
Anti-Corruption (Citizen Vigilante) Crusade
In the statement of the government when he was ousted of the party, they stated without giving many details about how the then Attorney General, Mr. Martin Amidu misconducted himself in a meeting with the president, late Professor John Evans Atta Mills.
But Mr. Amidu insisted he resigned because he disagreed with how his party was fighting corruption in the country. He revealed that he had problems with how his predecessor, Betty Mould Iddrisu paid GHC51.2 million to businessman Alfred Woyome as judgment debt and he wanted to go to court to retrieve the money for the country but he was resisted by the party, hence, the resignation.
His title 'Citizen Vigilante' was born when after his resignation, he published several articles in the newspapers detailing how the NDC is deeply in involved in corruption scandals in the country. In one of such publications, he used the word 'gargantuan' to describe how deep-rooted the corruption in his own party was. The word is now a common word used to describe corruptions in Ghana.
As a private citizen and anti-corruption crusader, Mr. Martin Amidu went to court to have the judgment on Wayome's payment reversed and the money paid back to the state.
In the eyes of Ghanaians, Martin Alamisi Burns Kaiser Amidu is a hero! and he will be the special prosecutor.
SEE ALSO: Jail Me And Lordina For DKM Scam – Mahama Dares Nana Addo