Recently, Ghanaians have been displaying their colorful and Africa well-designed outfits for their traditional marriages on the internet. Kente is well known in Akan, and is a type of silk and cotton fabric made of interwoven cloth strips and is native to the Akan ethnic group of South Ghana.
In recent weeks alone, there have been a lot of brides who perfectly fascinated many and hit the internet with their beautiful outfits.
Now let's check out the best kente gowns…
1.The perfection of this dress came the moment the designer decided to use red as the dominating colour giving the outfit a whole new look. Red been a hot colour makes the dress looks very sweet.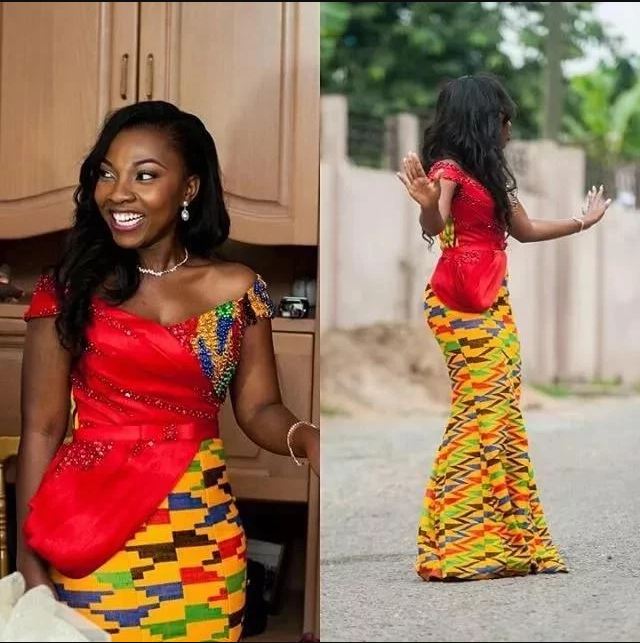 2.The design of this kente gown is so amazing and have all that it deserves to go viral. The curvy design of the bride's kente makes it the best to wear.
3.It is seen and believed that the favorite colour for females is pink but this beautiful kente gown gives a cute shape of the bride.
4.It's very cool and cute with the two with their beautiful kente cloth. This rear kente cloth was brought to life by this beautiful bride whose designer also used red to compliment the outfit.
5.This perfectly designed gown stands out with its purple colour.
6.Looking it clearly, you might think this design is in two different forms but its only one which is known in the local parlance as' Fatia'. Fatia is commonly used among brides in Ghana.
7. This white kente certainly makes the bride fantastic
8. This last spotted kente of the bride gives her a stunning look.