There is a common saying that 'happiness is being married to your best friend'. The benefits of marriage multiply when your spouse is also your best friend.
Marrying your best friend can be the best decision you will ever make in your life as couples who are best friends and spouses share a profound, honest relationship and accepting each other just the way they are.
ALSO READ: 10 signs your relationship has what it takes to last forever
It is a widely shared view that celebrity marriages do not last but some Ghanaian celebrities have proven that true love still exists.
Ghanapage.com brings you a list of Ghanaian celebrities who married their best friend and are still happily married.
1. Sulley Muntari & Menaye Donkor
The Ghanaian professional footballer Sulley Muntari got married to Menaye Donkor, a former beauty queen in December 2010.
The couple has been blessed with a son called  Jamal Krasie Muntari. The footballer and beauty queen are couple goals for most people.
Despite the fact that they are from different religions, they are an inspiration to people who do not believe in such marriages.
Sulley Muntari and wife, Menaye Donkor
2. Van Vicker and Adjoa Vicker
Ghanaian actor, Joseph Van Vicker got married to his wife Adjoa Vicker in 2003 in a lavish ceremony.
The couple has been blessed with three children; J-ian Vicker, Vj Van Vicker and J'dyl Vicker.
The couple has been married for 16 years and shares an incredible love story.
Van Vicker and Wife, Adjoa
3. Abeiku Santana and Genevieve
Radio presenter, Gilbert Abeiku Aggrey got married to his close friend of 17 years after his first marriage hit the rocks.
The couple got married in 2013 and according to Abeiku Santana, his marriage to Genevieve was an act of God.
4. Micheal Essien &Akosua Puni Essien
The former Ghanaian midfielder got married to his publicist girlfriend somewhere in 2012 at a secret ceremony in London.
The couple has been blessed with two children, Michelle Essien and Micheal Essien Jnr.
5. Kontihene and wife
Emmanuel Nana Appiah Boateng got married to his longtime friend Dulcie Omane in January 2oth 2014.
According to Kontihene, their relationship started as good friends and eight years down the line decided to settle down.
6. Okyeame Kwame and Annica
Okyeame Kwame and his wife are one of the enviable couples currently. They have an amazing bond and friendship.
The couple has been married for 10 years and has been blessed with two children; Sir Kwame Nsiah Bota and Shanti Antwiwaa Nsia Apau.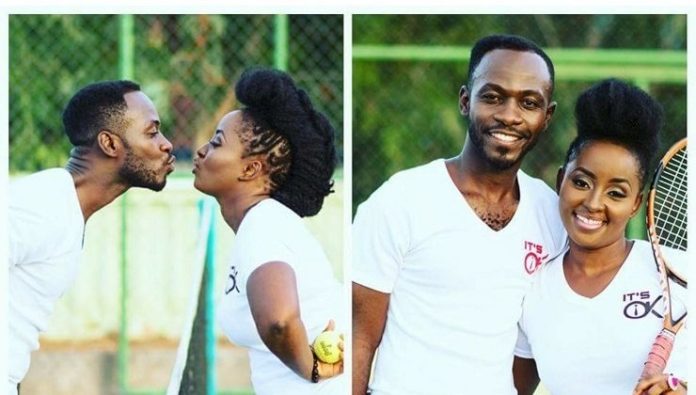 Some say celebrities find it difficult to find true love but the above celebrities have proved otherwise.