Frankly speaking, I absolutely see nothing wrong with a female with a child but no husband. Unfortunately, the Ghanaian society and Africa as a whole do not base their societal values on my opinion.
Its gradually becoming a common thing to see Ghanaian female celebrities(especially the beautiful ones) with a kid and no husband.
Some were married and for some reasons left the marriage and took their kids along with them. Others too had their child in a relationship and never got married.
Today, Ghpage.com take our readers through The Most Beautiful Ghanaian Female Celebrities With Adorable Kids But No Husbands (Born One Celebrities)
NADIA BUARI
Nadia with her twins
Nadia Buari, the beautiful fair skin actress recently gave birth to twins. The daughters look just amazing like their mummy and Ghanaians can't wait to see how these two adorable kids will grow up to be.
READ ALSO: Photos – Actress Nadia Buari's 'mystery' twin all grown up
One thing about their birth is their daddy and we are yet to know who he is. Had it not been that Mary, mother of Jesus was already known, we would have assumed Nadia's issue was immaculate conception..lol. She has done so well in hiding the identity of the kids' daddy.
She once posted a picture of one guy on her Instagram page to wish him a father's day and that fueled a speculation that he might be the father of the kids.
Afia Schwarzenegger
The controversial comedienne has most often been in the news for all the wrong reasons. ?However, when it comes to issues involving her sons, Afia is the archetypal mother.
The TV presenter has two biological sons and is reported to have adopted another three children who she takes care of.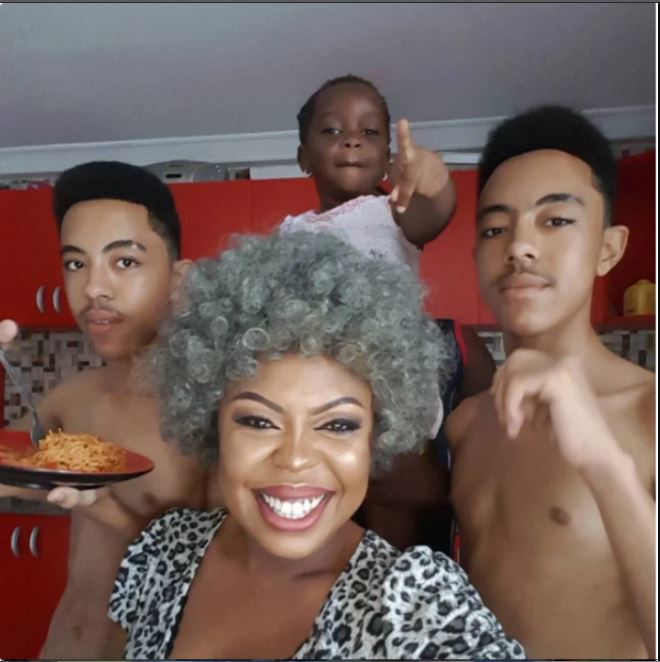 Scroll down

and

click on next page

to continue reading