67-year-old Cephas Bansah is a Ghanaian monarch who directly rules about 300,000 indigenous citizens and close to 2 million residents in a Ghanaian community in the Volta Region
Cephas is the Chief of Gbi in Eastern Ghana on the border of Togo and he is regarded as the 'superior and spiritual chief of Ewe people' in his community.
67-year-old Cephas Bansah royal status is 'King Togbe Ngoryifia Cephas Kosi Bansah' and he rules his kingdom from away Germany through Skype.
SEE ALSO: Free SHS without my support will collapse – Madam Akua Donkor predicts doom
King Togbe Ngoryifia Cephas Kosi Bansah rules two very contrasting lives. He is a part-time monarch in Ghana and a full-time mechanic in Germany.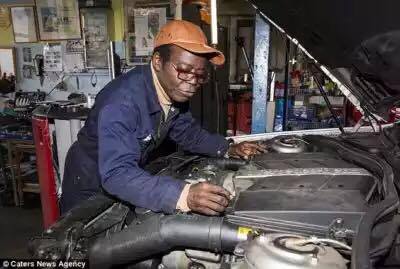 Céphas grew up in Ghana, he moved to Germany in 1970 before he was appointed the king.He originally moved to Germany when his grandfather, the then king, encouraged him to train there as a mechanic.
After finishing his studies and gaining full citizenship, he settled and set up his own garage in Ludwigshafen.
He continued living a peaceful life until 1987 – when he received a Fax which would change his life forever.
His grandfather, the King of Hohoe, had died and Bansah's father and eldest brother were deemed unfit to rule because they were left-handed, which the Ewe people considered to be 'unclean'.This meant that Céphas was his grandfather's successor and the new king.
He now lives in Ludwigshafen with his wife Gabriele Bansah, 57 and his two children Carlo and Katharina, continuing his job as a mechanic and his role as King.He visits Ghana up to eight times per year but mostly governs through Skype.
SEE ALSO: [Video] Ghanaian Actress Begins #NoPanty Campaign For GH Ladies – Here Is Her Reasons
In his role as king, he also works on a number of aid projects including building schools and is currently raising money to build a women's prison.
To fund his aid projects, Céphas also sells his own beer, called Akosombo – even though he never drinks alcohol himself.
German photographer Christina Czybik spent the day with the king at his home and managed to capture a fascinating insight into his life.
Christina said: 'The mix of cultures is an interesting one. Bansah told me that the people in Ghana are very religious.
'They are mostly Christian, but a lot are also Voodoo. But not in a bad way.
'King Bansah has a small Voodoo shrine in his living room with a small handmade sign that reads 'Michael Schumacher shall recover soon and fast'.
'He invited me to join his delegation to travel to Ghana this September. I've actually booked my flights.'
By all indications, his subject has no problem with his rule and he is delivering up to expections. We wish him well
SEE ALSO: I will never cheat on my wife despite pressures from other ladies -Kwadwo Nkansah Lilwin