The head pastor of African Methodist Episcopal (A.M.E) Zion Church, Anyinam district, Reverend Kwasi Awiakye has been caught in the web of fornication and has senselessly been beaten by the youth of the town when he, unfortunately, got caught.
Apparently, Reverend Kwasi Awiakye of Zion church tried to forcibly have s3x with a married woman who approached him with her marital problems.
The man of God told the woman her marital issues are spiritual problems so he had to bath her in the night before she can be free of those spiritual attacks which the married woman agreed to but he tried to sleep with her after bathing her.
An eyewitness narrating how it all happened to Ghpage.com said:
SEE ALSO: Audio: KABA built a fully furnished brand new mansion in Accra & was Planing to move in this X'mas– Captain Smart of Adom FM reveals
"The woman has marital problems with the husband.She moved out of the house and rented her own room to stay in. A friend introduced Reverend Kwasi Awiakye to the woman that he can help her solve her problems".
"But the reverend told her she had to be bath by him at night to drive away all the spiritual attacks on her marriage which she consented to".
"After the bath, however, the pastor proposed to her which. She refused because she is still married to her husband and the pastor is equally married. But the pastor kept pestering her until Wednesday night when she heard a knock on her door and opened only to be greeted by the same reverend"
SEE ALSO: Some of the Multimedia Workers mourning KABA's death are hypocrites; they never liked him – Ohemaa Woyeje
"She let him in and excused herself to call the husband but by the time she returned, the pastor had removed all his clothes and said he was ready for 'action' and then tried pouncing on the woman."
"Screams of the woman attracted the youth who budged into the room to see the Man of God trying to forcibly have s3x with her but was seized and given the beating of his life"
"Had it not been good samaritans who rescued him, the youth would have killed him there. But bystanders recused him and took him to the police station."
Photos and Videos of the ordeal are already going viral in Anyinam in the Atiwa District and its surrounding towns.
SEE PHOTO BELOW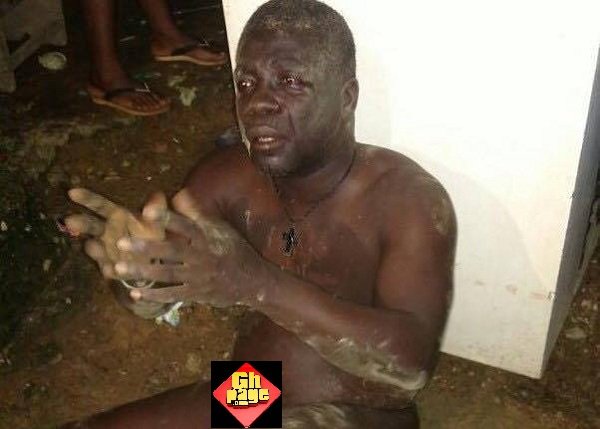 SEE ALSO: Visually impaired Christian Morgan got a big surprise from Nana Ama McBrown [Video]