The COVID-19 Lockdown in Ghana which was supposed to end on 13th of April 2020 having started on the 30th March 2020 has been extended for another week, as stated in President Akuffo Addo's speech yesterday.
READ ALSO: Any guy that last 30 minutes during intercourse is a mad man – Lady claims
By the new directive, the Coronavirus lockdown in Ghana shall end on 20th April 2020 subject to constant review.
After the aforesaid statement by the President, a horny Ghanaian lady has pleaded on the president to them give a day off amid the lockdown extension to have time with her boyfriend and enjoy some prick to satisfy her sexual pleasures.
READ ALSO: Get yourself a man with a vision & a lifetime plan – Lady advises
The lady identified as Sista Afia during the Live broadcast of the President's speech, begged for a day to enjoy herself with her guy before it becomes late under the comment section.
CHECK OUT SCREENSHOTS: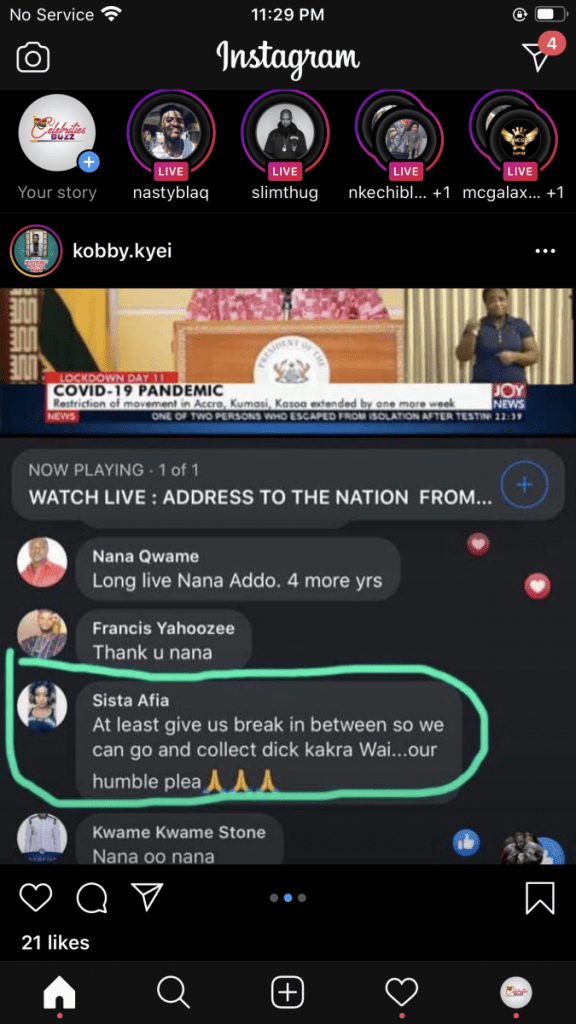 So was that the only thing she could think of? smh