Convenor of the Free The Sheeple Movement and The Tithe Against Poverty (TAP) #TAPChallenge, Daddy Freeze has again issued another controversial message to "First Fruit" offerers.
Daddy Freeze recently posted on his Instagram and announce to his followers to always keep in touch with him on his YouTube page, as he'd be teaching and explaining how and why paying "First Fruit" is considered fraud.
The British high-ranked official is saying that it is morally and totally wrong to offer your pastor all your "January Salary", something that is tagged as "First Fruit".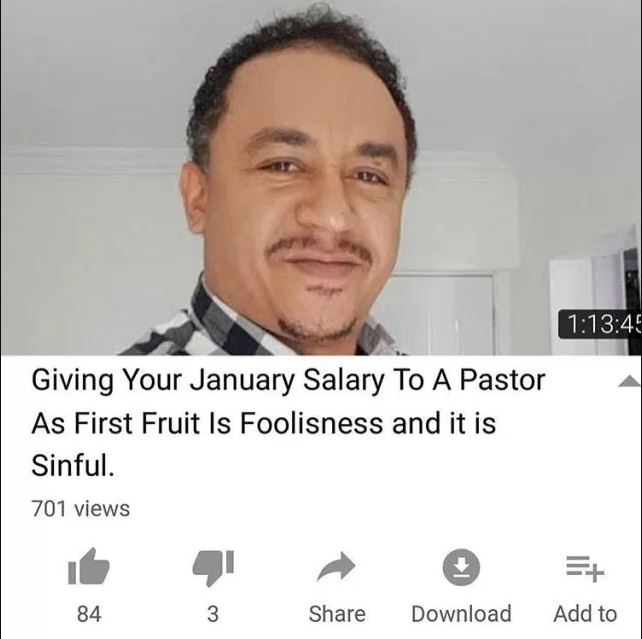 However, after posting his controversial message, Omotola who was rather shocked over what seems to be a sort of an allegation to her also dropped a reply to his post.
The beautiful actress revealed that this would be the very first time her ears and eyes are experiencing such a statement like given your "January Salary" as "First Fruit."
She wrote as a reply to Freeze; "Really? People drop their January salary? Hearing this for the first time."
And trust Daddy Freeze to respond; "omo sexy mi! Happy new year! All the time even people who are paid less than 30k a month"
Omotola Jalade Ekeinde
A follower also shared an encounter of a friend of hers, in response to Omotola's comment. The Follower wrote;
"Yes, they do. I met a proprietres of a school about two months ago. She gave her pastor all the monies she made in the first two weeks of January. Her pastor brazenly refused it. Why? Because, according to her pastor "first fruit means all the money one makes in the whole of January." So, the shameless pastor asked her to take the money back, and come back at the end of the MONTH to give the offering. The lady said, and I quote: "I took back my money, and gave part of it to my relative who had earlier asked me for some money." She said she has stopped giving the so-called "first fruit" since then."
Watch Daddy Freeze's Full Video Below……..
Subscribe to watch new videos
You Might Like To See Photos: Pastor took the wrong pendrive and mistakenly shows hot p0rn to church members