Guardian of Striker who was also an actor in the Hollywood movie "Beast of No Nation" has reacted to the numerous accusations from the actor who was spotted today begging for a living on the streets of Accra.
According to Kobina Sam, the guardian, all the allegations from Emmanuel Nii Adom Quaye who played the role Striker in the Beast of No Nations are lies.
He was paid just like Abraham Atta his colleague actor and his education was sponsored just like the other kids. Striker is living the life is living by his own choice.
SEE HERE:  HOLLYWOOD ACTOR NOW BEGS ON THE STREET OF ACCRA FOR A LIVING [SEE PHOTOS]
He attributed Striker's current state of living to his stubbornness. He revealed Striker was well taken care of and they secured roles in good movies for him but he couldn't follow simple instructions that can easily make him a great actor like Abraham Attah.
Responding to Striker's allegation on Facebook, Kobina Sam wrote:
"He's been given everything in this world, he was paid same as Abraham Attah and we managed to get him movie roles. The producers didn't let him go back to the street after the movie."
"They sponsored his education at a Montessori school at Cape coast with same Abraham Atta, he's just being stubborn."
"Nobody left him in the streets, he was brought to a proper home, I know this for a fact because I'm one of his guardians. He lied to the guy who found him, he has chosen that part of life."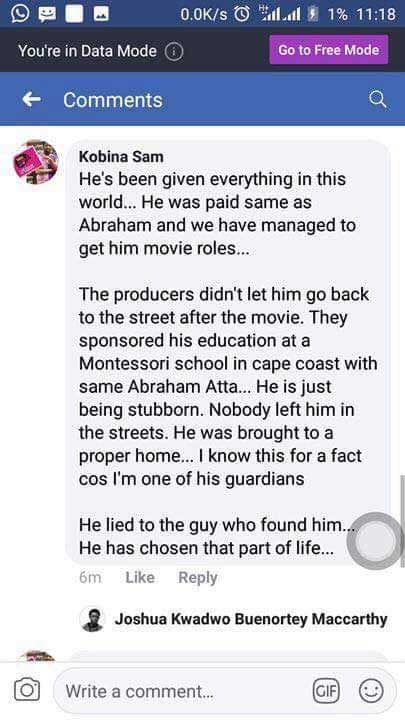 SEE ALSO: Abraham Atta has changed towards me: he is rude and treats me like he is better than me – Striker [Video+Photos]
According to Striker who was found today, 20th August 2018 begging for money on the street leading to Ghana School of Journalism, he now works with a man who sells yam at Agbogbloshie Market and he stays with his grandma at North Kaneshie.
He also stated that he was paid $30,000 for his role in "Beast of No nations" but he is yet to see the money because one Kofi Rabbit who took custody of the money is refusing to give it to him
SEE HERE: "I WAS PAID $30K AS MY SHARE OF 'BEAST OF NO NATIONS' BUT AM YET TO SEE THE MONEY" – HOLLYWOOD ACTOR, STRIKER WHO NOW BEGS ON THE STREETS FOR A LIVING
Striker also claims his colleague actor and friend, Abraham Atta has changed towards him; he is rude and speaks to him harshly after migrating to the USA.
WATCH AND LISTEN TO STRIKER HERE
https://youtu.be/Qb_mwOK-WE0
SEE ALSO: Abraham Atta has changed towards me: he is rude and treats me like he is better than me – Striker [Video+Photos]