These our slay queen really have some skeletons in the cupboard but instead of them keeping quiet and minding their business, they keep stepping on the toes of people who in return reveal their secrets.
Remember when Moesha Boduong who has made it clear to Ghana and the world that she sleeps with big men in other to fund her expensive lifestyle exposed another Slay queen cum television personality Efia Odo for sleeping with men who pay her only 50gh and sometimes don't pay for the hotel bills.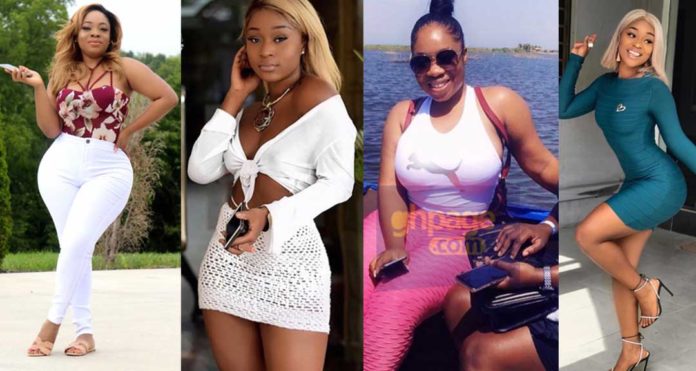 Also Read: Rosemond Brown "Gbaa" big time in an interview
Rosemond Brown who was uninvited to the beef joined and trolled Efia Odo not knowing that she also has her own filla in the coming out very soon and it looks like Efia Odo is even better than Rosemond because at least she takes 50gh.
According to an Instagram page called @Switchfocus, Akuapim Poloo paid and took care of all expenses for a Holland Borga who visited Ghana for a short stay and in addition "chopped her basabasa" without giving her a dime.
Read the full post below.
"eiiiiii 3wiase de3 if you are chewing 3fo) nsa p3 then you watch yours ooo…….we were all here 3na @akuapem_poloo has been cutting noisy videos telling @efia_odo that she sleeps with men for 50gh…..sometimes mpo de3 free…..na kyer3 s3 oooooseeeyeee?????????????? Atiefo) lemme tell you something wai……s3 mo ahu the two guys in the pics no? they are brothers oooo…na mo ntie the konkonsa here……the one in the blue shirt is called Kwasi and he lives in Holland……not long ago )baa Ghana and called his brother Harry s33 he's staying at Nungua…..the brother asked why ooo…..not knowing he was lodging with Poolo……na the funny thing ne s33 he was chopping Poolo ooo and Poolo will pay him instead???????????Poolo 3de these guys k)) salon for grooming….buying stuff for them especially the Holland guy……and she will even give him for transport??????????eiiiiii gyimie paa nie……so the one who collects 50gh 3ne wo a s3be y3 di wo free na woasan 3tua )b33ma no which one is shameful"?
Also Read: Rosemond Brown bathroom photos goes viral on social media
See the picture of the Holland Borga and screenshot of the post
SEE MORE: Rosemond Brown launches fresh attack on Efia Odo