Ghanaian actress and movie producer, Yvonne Nelson has expressed a sign of resentment over the continues attack on her daughter from Ghanaians and social media users.
According to the actress, she is more aware of the insults and attacks being laid on her personality and lifestyle by Ghanaians, but she won't allow that to be transcended to her daughter, Ryn Roberts, who is very dear to her heart.
Yvonne Nelson on this issue has already served a notice that she would not hesitate to sue anyone, who speaks ill of her daughter.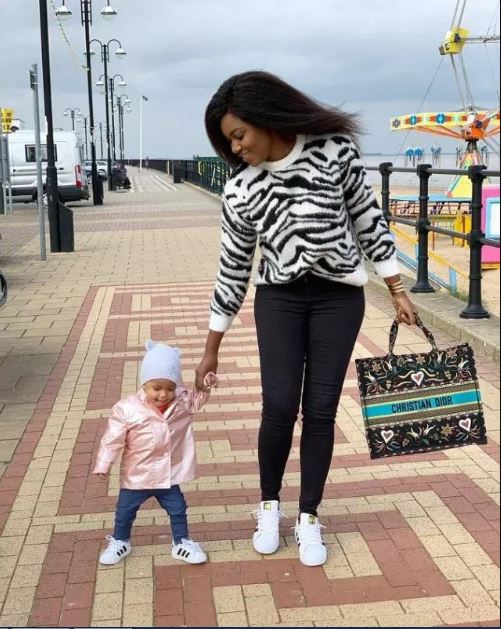 The screen goddess who had her daughter with a British photographer in 2017, said the innocent child has done nothing wrong to welcome censures from anyone and so will meet anyone who tries that in court so that they justify why they shouldn't be punished for bringing the name of a child into disgrace.
Speaking in an interview on actress Nana Ama Mcbrown's show last Sunday, Yvonne lined her words with an example of one social media user who tried to denigrate her child.
According to her, she had to get her lawyer to call the person to retract and desist from such act else she would have dragged the person to court.
Yvonne said: "People wish bad for me and that is what I don't understand. People are so interested in the negative stuffs I am used to the stories but my worry is why they are interested in the negativity.
You know people are wicked. Even if they hear the good things, they don't want to believe it, they won't write about the good things. As I have given birth, I have realized that people want to direct their issues to the child, who hasn't done anything to them. I am used to that but sometimes it gets too much"!
She continued "She hasn't done anything to anyone, she is an innocent child. So, as for that one, if you say anything bad, I can get offended but with me, I understand because of my work it comes with the job.
But now, I if the child issue comes in, I will let my lawyer call you. If you know someone who used to talk about me and the person has stopped, it means my lawyer has called that person. I will make sure that I sue. And so if you don't fear suing, go ahead and peddle falsehood one day, you will fall into the trap"
Building foundation for her warning statement, the gorgeous actress, who is currently in the United Kingdom (UK) with her daughter to spend time with her baby daddy said, she would stop at nothing to protect her daughter, whom she had out of wedlock.