Rumours of a misunderstanding in the  BHIM Nation camp began a few months ago when Stonebwoy unfollowed his mentee, Kelvyn Boy on Instagram for unknown reasons.
Last week Stonebwoy confirming these rumours, admitted there was an ungoing shake up going on in his camp. He announced that Blakk Cedi was no longer his manager as be had been 'promoted' to the role of an agent.
Stonebwoy subsequently terminated Kelvyn Boy's contract with Burniton Music Group after the former alleged that Kelvynboy had been ungrateful and disrespectful towards him.
A few days later, Kelvyn Boy and Stonebwoy's wife, Dr. Louisa Satekla unfollowed each other on Instagram.
In a recent development Kelvyn Boy has returned Stonebwoy's favor as he has equally unfollowed his former boss on Instagram.
SEE SCREENSHOT BELOW: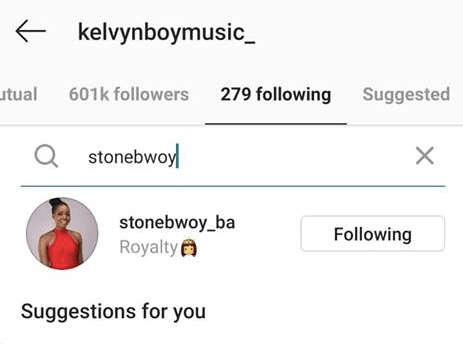 It's a done deal. All hopes of a possible  reunion between the two conflicting parties have been squashed as both parties have made it clear that they don't want anything to do with each other any longer.