Few hours before the premiere of "Who watches the watchman", Kennedy Agyapong released another photo of the ace investigative journalist, Anas Aremeyaw Anas.
The MP for Assin North, Kennedy Agyapong has vowed to unmask the mysterious journalist who goes about his public activities with his face covered, Anas Aremeyaw Anas.
SEE ALSO: Kennedy Agyapong finally shows his full video evidence against Anas
According to him, Anas is corrupt so he has no moral right going about exposing people he perceives as corrupt. The member of parliament claims Anas blackmails his victims after he himself has trapped them into taking a bribe from him.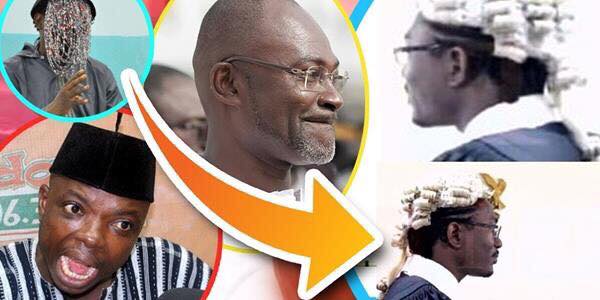 Since few people have ever seen the real face of Anas, Kennedy Agyapong has vowed to strip him bare for Ghanaians to see his real face and to know how corrupt he really is.
SEE ALSO: Anas has something doing with the late J.B Danquah's wife Ivy – Kennedy Agyapong
He has since released series of pictures he claims is the real face of the investigative journalist. Yesterday, he premiered the first part of his exposé on Anas dubbed "Who Watches The Watchman".
But even before that, Kennedy Agyapong in a panel discussion on Net2 TV with outspoken NPP member, Abroye showed another picture of Anas, this time when he was called to the bar.
SEE ALSO: Kweku Baako explains what really happened between Anas and Afia Schwarzenegger
The picture shows the face of a man Kennedy Agyapong says is Anas in the company of the then Chief Justice, Her Lordship Mrs. Georgina Wood. He explained that that was when he was called to the bar by the former Chief Justice.
To See Where He Showed The Picture, forward to the 5 minutes
https://www.youtube.com/watch?v=spfvWG2bypc&feature=youtu.be
SEE ALSO: The CID must arrest and prosecute Anas as soon as possible – Rev. Owusu Bempah