Remember when Kuami Eugene in an interview stated that no girl has ever rejected his proposal when he became famous? Well, there's more to it and it has been revealed by Snapchat user fatpu$$y055 who has been exposing some celebrities for the past three days.
In the latest expose by the notorious Snapchat user fatpu$$y055, she's disclosed that Kuami Eugene has been using his small fame to bang girls, accusing him of banging his own music colleague and Rufftown Records signee, Wendy Shay.
Also, he's been accused of getting infected with GONO after going raw with one UPSA girl and trying to force his way with a girl in his room and among other things.
See the screenshots below…
Read also: Kuami Eugene and Wendy Shay finally kissed on her birthday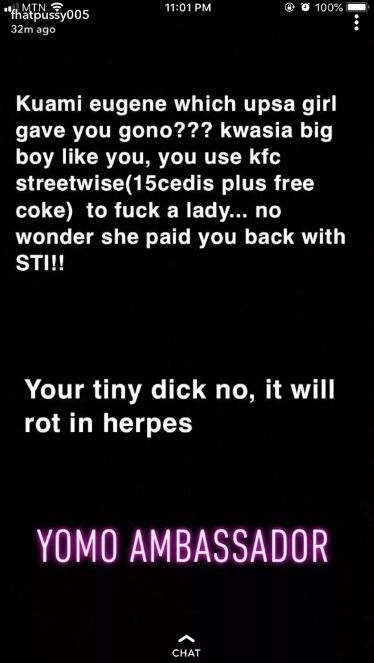 Read also: Shatta's godfather allegedly paid 4,000 cedis to Tema-based girl

Read also: Nana Aba Anamoah disgracefully rejects Counselor Lutterodt's birthday wish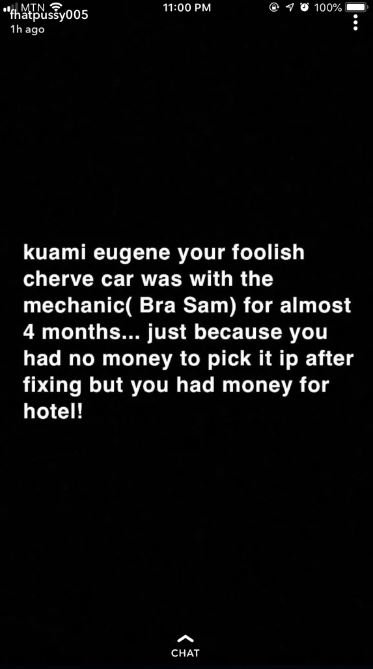 Read also: Chioma is being "chopped" in London – Davido hypeman alleges
On Wendy Shay's birthday, Kuami Eugene was seen with Wendy Shay hugging each other so tight that those around were screaming on top of their voices but in the end, the two heads came close as Kuami asked for the camera not to capture them.