Popular Kumawood actor, Kwaku Manu has slammed Kwadwo Nkansah Lilwin and his fetish priest Top Kay, known in real life as Kwaku Boateng for stating in his(Top Kay's latest track) song that Kwaku Manu and the likes are jealous of Liwin.
Kwadwo Nkansah's fetish priest, Top Kay attacked the kumawood stars with a new song. In the song, the fetish priest turned by force musician claimed people including some of the Kumawood stars are trying to bring Liwin down.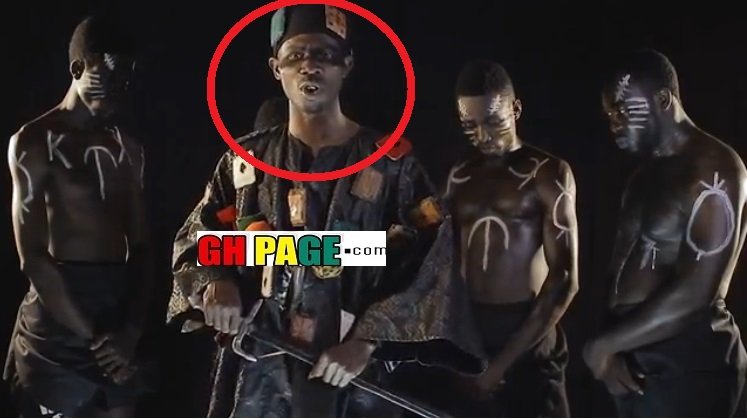 The song is a strictly directed towards their so-called 'haters' which Kwaku Manu is said to be a part and especially for those Kumawood stars that are against Lil Win and seek for his downfall.
However, the 33-year-old actor, Kwaku Manu doesn't seem to be happy with what has been going on and has reacted to it in an equal measure.
In a Ghpage.com has gotten, the kumawood star in reaction said downplayed Kwadwo Nkansah's assertion that he has gotten far than him tho Kwaku came into the kumawood industry before him.
"And so what if you were there before me, and so what if you traveled before me?"
He then took a swift shot at Top Kay and dispute his claim that a lot of the stars' lives are in a deplorable state.
"No One's life is destroyed as you claimed, cry your own end time. You are even hungry, fetish priest-You are hungry."
He then hit back again at lilwin and added that he is being surrounded by fools who don't give him a good advice.
"You are singing against Kumawood and do you think, it is only females in Kumawood? You are walking with a fetish priest so you think you are not afraid of anything.It is God's thunder that's going to strike you.If God is alive then I don't believe a fetish priest has more powers" He added.
Below are Top Kay's attack on kumawood stars and Kwaku Manu reaction–All in one video;
https://youtu.be/x05_tgXySTk
One thing I believe you know is that two biggest political rivals we have in this country are NPP and NDC. But according to what we gathered, the Kumawood industry is getting more divided than these two aforementioned political parties.
READ ALSO: Audio: Finally, Wife exposes Kwadwo Nkansah Lil Win as an Abuser, greedy bastard, a cheat and how she was treated as a slave in their marriage
In other words, the NPP and the NDC are even more united than the Kumawood. That is for you to know the extent of the division, backbiting, spiritism in our beloved Kumawood industry.
Well, at the right time, Ghpage.com will dedicate a full article to address that canker…But before that here's all there is to know according to the recent happenings with Kwadwo Nkansah and some problems of late.