The world is indeed full of surprise and some decisions been taken by some people make you wonder if truly the people in question really thought about their decision before finally accepting to do that.
Many of us have heard stories of step-dad sleeping with their stepdaughters but I doubt how many of us have actually seen them take their relationship to the next level by settling down as husband and wife whiles the ex-wife/mother sits idle and watch.
Also Read: Ghanaians reject John Dumelo after showing interest in becoming an MP
Ah well,  a lady on social media identified as Tffyin has defended her decision to marry her step dad who divorced her mother some months ago after she accused him of dating his new bride(Tffyin) elder sister insisting there is absolutely nothing wrong with it.
Whereas some close relations described her conduct as a sacrilege, Tffyin stated that the man had to call it quits because it was established he had dated her elder sister 5 years.
She made this revelation after a tweep had asked what one would do if he/she finds out that their partner had dated a family member for 5 years.
Also Read: Asamoah Gyan's wife never cheated on him; he's a 'liar and irresponsible' – Wife's friend reveals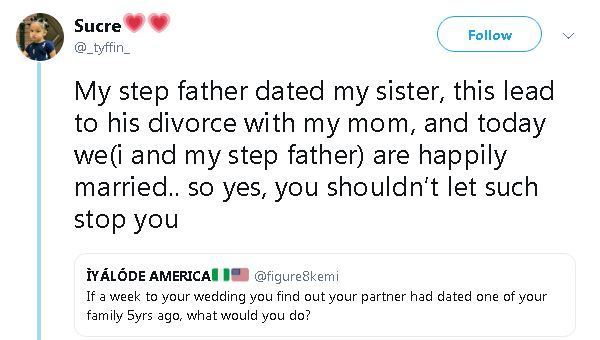 Tyffin's tweets read ;
My step -father dated my sister, this lead to his divorce with my mom, and today we(i and my step-father) are happily married…so yes, you shouldn't let such stop you. 
Also Read: Wendy Shay apologizes to Ghanaians and multimedia over her 'Dumb question' statement
Of course the whole family is cool with it, my mom stayed for 3 months after i had my first child and my sister still visits, love sees beyond little things like "past" which no one can change. Why him? He is a good man, so why not him
Y'all frown so much at this but are cool with Adam and Eve or should it to say Noah kids, please it's my life and my choice. Society shouldn't lay rules for you. My Husband didn't cheat on my mom before he only broke up with him cos he once dated my sister. We passed that now
There has been a lot of misunderstanding please get this right, my husband didn't cheat on my mom with my sis, he dated my sister before he ever met my mom, i never knew it is so frown at like this would have kept it to myself, if you pissed we are Saarland, Germany 
SEE MORE: Medikal explains why he joined Sister Derby's 'Kakalika Love' Challenge with Fella Makafui