Alcoholic drink "Kpoo Keke" is really driving people crazy. There is no Ghanaian programme that one would go and not see a bottle or two of the "Kpoo Keke".
There is a saying that what men can do women can do better. But we never thought it would get to the extent of women consuming a bottle of alcoholic drink in just some few seconds.
A video is fast going viral on social media sees an identified young woman abusing now popular "Kpoo Keke" alcohol drink and its currently causing stir among netizens.
Also Read: We have regretted sponsoring Ebony's 1-year anniversary concert – Kpoo Keke boss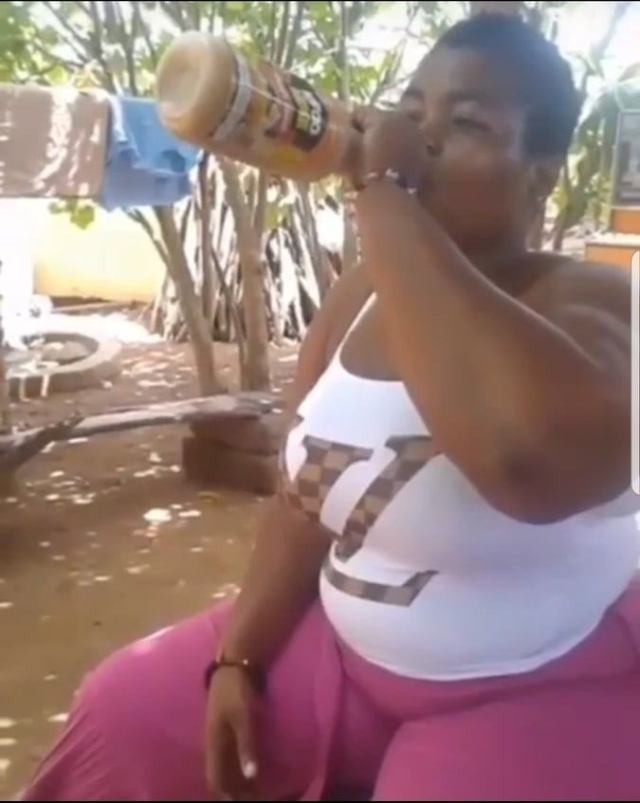 The lady we are sure can represent Ghana in any drinking competition looking at how she was able to finish the drink whiles been cheered by some people around her.
Watch the video below:
The Kpoo Keke craze is gradually taking over the youth after Stonebwoy released his 'Kpoo Keke' song which many believed was a paid venture by Liberty Industries; producers of popular alcoholic beverage Kpoo Keke to create a hype around the alcohol beverage.
Meanwhile, manufacturers of Kpoo Keke have modified the appearance of the beverage.
The most outstanding new features perhaps would be the lustrous new bottle with the Liberty logo boldly embossed on the base contained in the all new yellow carton with two perforated holes on either side.
Other modifications include a new label with "scratch to authenticate" security features and a QR code to scan and an all-new cork with the Liberty logo embossed on it.
Effective immediately, customers and loyal patrons of the recently adjudged Liqueur of the year at the Ghana Beverage Awards, Kpoo Keke are informed to look out for these new modifications to the brand at the next purchase.
Also Read: Shatta Wale and Church jam to Stonebwoy's "Kpoo K3k3" song
It is instructive to note, however, that these new modifications have not in any way affected the content at all. Kpoo Keke still remains your original Ginger and Tigernut based liqueur manufactured under strict hygienic conditions and perfected to taste with a substantially convenient level of alcohol. Kpoo Keke IS NOT available to children under the age of 18.
The brand also thanked its cherished customers, partners, distributors and other patrons from Ghana and beyond for the great support given the beverage so far.
Adding that, they look forward to even brighter and more exciting times ahead.